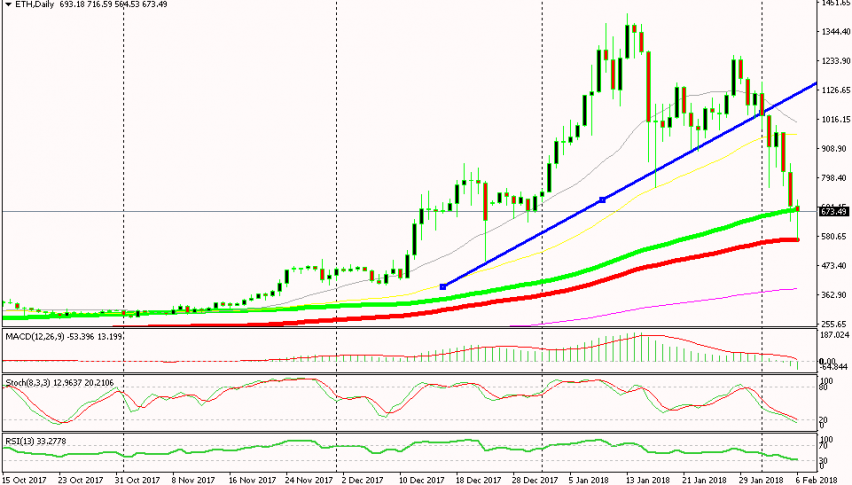 The 100 SMA Survives, Long on Ethereum
Ethereum picked up from the 100 smooth MA (red) and is looking to close above the 100 SMA (green)
As discussed previously, Cryptocurrencies including Ethereum have been going down in a blaze of fire over the course of several weeks. It has been  the opposite of the surge that we saw until Christmas.
The decline has been huge, but brought into play some long term technical indicators, such as major support areas and moving averages. Bitcoin extended the fall today, touching the 200 SMA, while Ethereum reached the 100 SMA on the daily chart a few hours ago.
For Ethereum, there was another support indicator lower. The 200 moving average (purple) is standing approximately $200 lower, but for Bitcoin, there was no other indicator to act as a defense on the daily chart, if the 200 SMA got broken.
It looked like sellers saw that, and let go of their sell positions. Buyers became active, and in the last few hours, Cryptocurrencies have been reversing higher. We decided to buy Ethereum above the $600 level, and have seen positive results so far.
We lost approximately 400 pips on the Litecoin trade last week, meaning that we had to take it back from the Cryptocurrency market. Altcoins reversed higher, and Ethereum surged slightly during this time, now trading just below the $700 level- our Forex signal here reached its target. We cashed in around 600 pips, so we're up on cryptos so far this month.