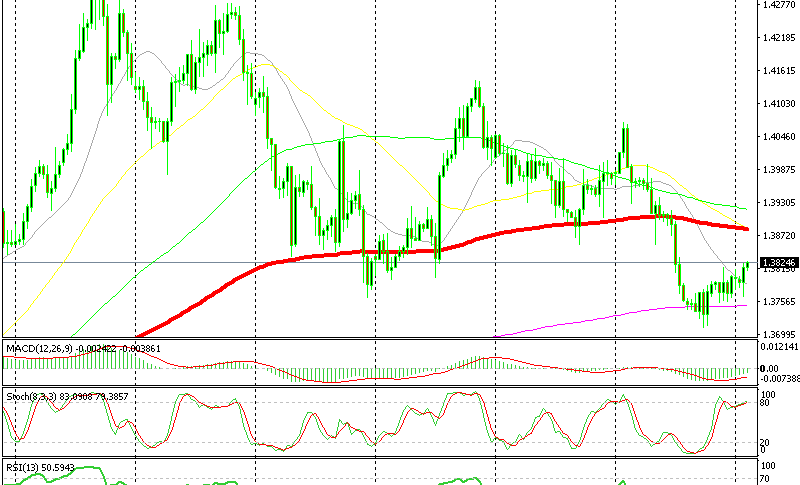 GBP/USD Climbing After the Services Data. I'm Waiting to Sell!
The UK services report came out 1.5 PMI points above expectations earlier today. Expectations were for a 53.0 PMI reading, so the pickup is positive. That's one of the very few positive economic releases from the UK recently, so it is having a mildly positive impact on the GBP.
As a result, GBP/USD is about 60 pips higher now from the lows today. Although, there some USD selling going on at the moment, so that is helping push this pair higher as well.
In the last six weeks, GBP/USD has been trending down in a slow downtrend. That might actually be considered as the retrace of the bigger uptrend that has been going on for a year. On the other hand, last year's uptrend might be considered part of the even larger downtrend that this forex pair has traded in for the past three years.
Once support, the 100 SMA should now turn into resistance
Anyway, the market sentiment towards the GBP is pretty bearish at the moment due to the latest development in the Brexit process. Therefore I am looking to sell this pair.
The best place to do that is the 100 smooth MA (red) on the H4 chart. That moving average has been providing support in the last four weeks, until it was broken last week. The stochastic indicator is overbought and by the time we reach that moving average, it will be severely overbought. I would put the stop above the other 100 MA (green) if I am to take this trade.
That moving average is standing in the 1.3880s region, which is 50-60 above the current price. So, there's plenty of time for us to make up our mind about this trade. We'll be back on this pair with another update when it climbs up there.