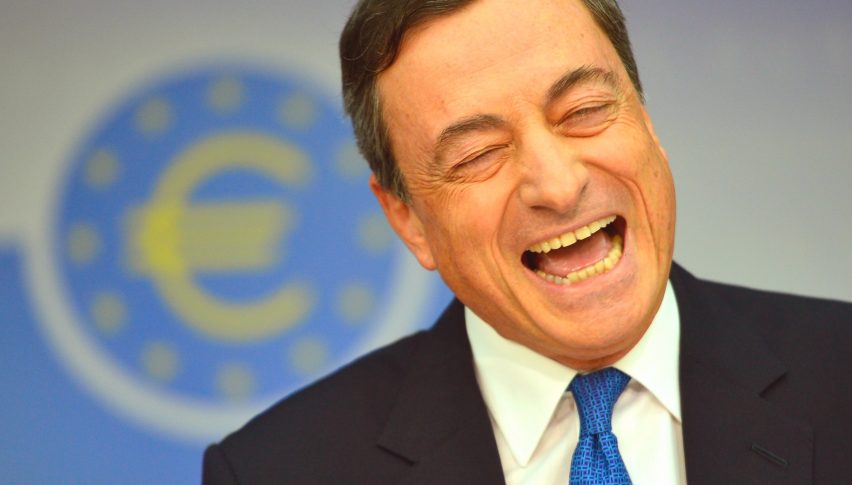 All Eyes on Draghi for A Quick Bonus on EUR/USD
Draghi looks happy today
Yesterday EUR/USD made a decent climb, moving nearly 100 pips higher. If you are following our forex signals, then you are aware of the long term sell signal in EUR/USD. We opened it last week and at some point we were about 150 pips in profit, but the recent climb has shreded the profit.
But Mario Draghi can come to our rescue today and give us a nice bonus I hope. The Draghster is scheduled to speak at 8 GMT. He usually gives the Euro a slap, sending it considerably lower. That's what happened last Thursday. The Euro jumped about 70 pips higher after the ECB (European Central Bank) statement, but as soon as Draghi came in the Euro reversed and ended the day 150 pips lower from the highs.
He used to be much more dovish in regard to the Euro in the previous years, but he's lost some of the charisma. Although, we wouldn't refuse a 100-200 pip bonus. He's speaking in Frankfurt, at the lions den.
Yesterday, one of his peers at the ECB  said that the ECB is not worried abut the current levels in EUR/USD. So, if Draghi sounds dovish today, then that will have an impact on the Euro, a negative impact of course.  I would have liked to see 1.22 of course. The profit would be more than 200 pips, so if EUR/USD falls and starts having second thoughts down there, then we might close this signal manually. First, let's hope Draghi sounds dovish.