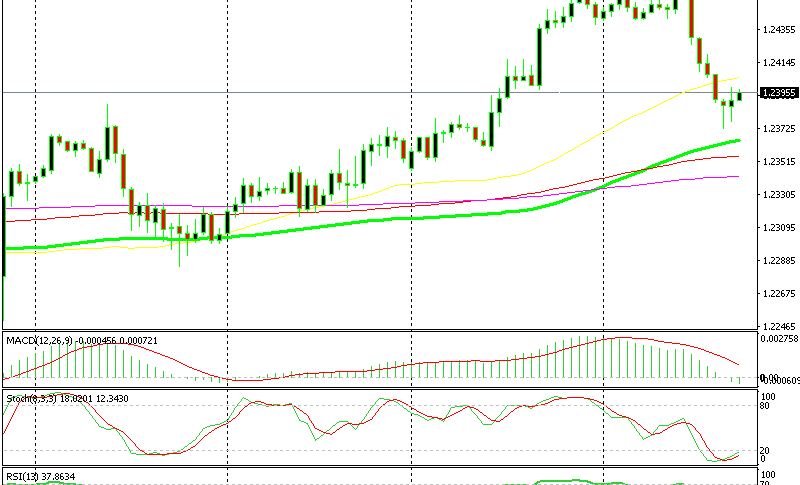 EUR/USD Trading Between 2 SMAs, Waiting for the US GDP Report
Major forex pairs made some strange moves in the last two days. The USD lost more than 100 pips on Monday and as a result, EUR/USD climbed more than 100 pips while GBP/USD climbed about 150 pips.
That happened on Monday. Yesterday, the situation reversed completely for the USD pairs and EUR/USD and GBP/USD lost most of Monday's gains. The US GP report is the only major data related fundamental this week, so what I can make of this sort of price action in the last two days is that forex traders are positioning themselves ahead of that report.
The GDP report is due to be released later today. The forex market has made most of the positioning in the last two days, so now it doesn't know what to do, so it is just hanging around.
The 100 SMA on top and the 200 SMA at the bottom  are confining EUR/USD
Most majors are trading in tight ranges today. EUR/USD has been stuck between two moving averages on the hourly chart and it doesn't seem like it is going to break out of this range before the US GDP report is released.
The top of the range is defined by the 50 SMA (yellow) at the top while the 100 SMA (green) is providing support at the bottom. The 50 SMA at the top comes at 1.2420s while the 100 SMA at the bottom comes at 1.2370-80.
Right now the price s trading somewhere in the middle. But you can trade this range before the GDP release is the price moves to extremes of the range. If we see EUR/USD get close to one of the moving averages, the bottom one for example, then we might be persuaded to open a buy forex signal with a stop below that MA and take profit at the 100 SMA on top.