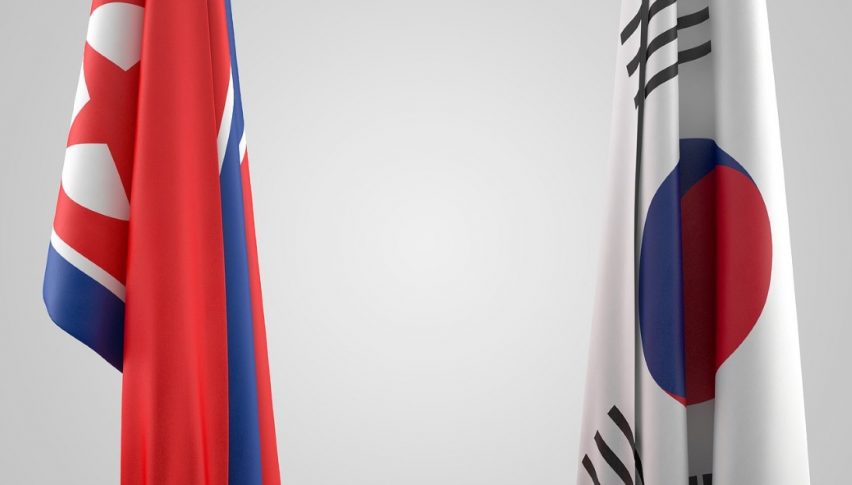 The Korean Peninsula Is Driving Fresh "Risk-On" Sentiment
Activity on the Korean Peninsula is on the market's mind as the U.S. trading week opens. U.S. equities indices are mixed amid a dramatic sell-off in gold and considerable loss in WTI crude oil. "Risk on" appears to be back in style. 
What A Weekend
Several items hit the newswires over the weekend that have this morning's markets buzzing. Developments regarding the denuclearization of North Korea are the undisputed headliners:
North Korea declared it is to suspend all nuclear weapons and missile testing for the near future.

Kim Jong Un stated that he is willing to accept "complete denuclearization."  

North Korea and South Korea are scheduled to meet Friday in the first inter-Korea summit in more than a decade.
Mainstream media outlets in the U.S. have reported these items in many tones. Some euphoric, others extremely skeptical. Things that look too good to be true usually are — perhaps the budding peace on the Korean peninsula will be the exception to the rule.
A Quick Look At The DJIA
The chaos of early 2018 seems like a distant memory. The DJIA continues to trade within February's range, near the 25,000 level. Over the past 8 sessions, a pattern of relatively tame daily ranges has emerged.
Overview: 25,000 is the key number in this market and the benchmark by which the Trump rally in U.S. equities is measured. If below 25,000, analysts are talking about "correction" and a possible massive selloff. If above 25,000, the consensus is rosy. Right now, we are slightly below 25,000 and it is anyone's ballgame.
A breakthrough of peace between North/South Korea and denuclearization of the Korean peninsula is the fundamental catalyst that long-term equity bulls are looking for. With strong U.S. economic performance and corporate earnings expected, an easing of tensions with North Korea would be icing on the cake.
A deal between North Korea, South Korea, and the U.S. will take "risk on" to the next level. If this scenario comes to pass, the "Trump Rally" is just getting started.