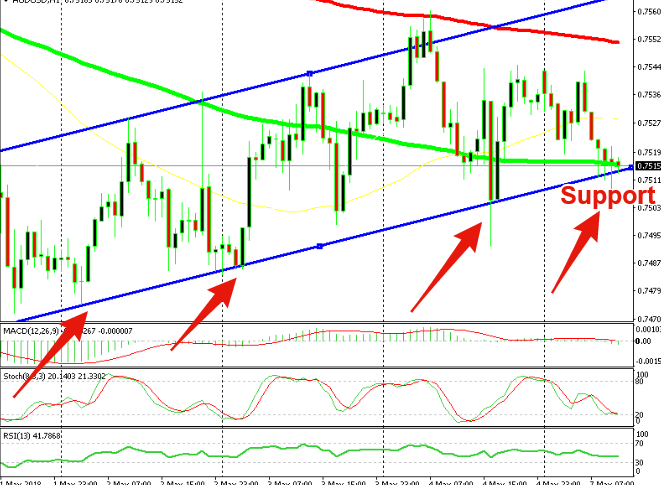 We opened a forex signal in AUD/USD minutes ago. We bought this pair, which is the first buy signal here in weeks. In fact, we haven't gone long on commodity currencies for more than a month from what I can remember.
The market sentiment has turned really bearish towards these currencies as the USD regained control, so the downtrend in commodity currencies has been quite steep during this time. So, why do we go long on AUD/USD now?
The larger trend is surely bearish, but I can see a smaller uptrend being formed in this pair over the past four days. That has happened whenever EUR/USD and GBP/USD have stretched the downtrend further. So, if we see an upward retrace in EUR/USD, chances are that commodity currencies will retrace higher as well.
There is a smaller uptrend inside the bigger downtrend
But, the reason that I went long on AUD/USD is the smaller uptrend that has been formed during the last few days. As you can see from the H1 chart above, AUD/USD has been trending up slowly since last Wednesday and now we have reached the bottom of the trend.
The bottom line of the trend is providing support for this pair and the 100 SMA (green) is standing at the same level as well. This moving average has provided resistance before and it is now providing support. Besides that, the previous hourly candlestick has formed a doji, which is a reversing signal. So, we went long against the major trend, therefore, we have to keep a close eye on this trade because counter-trending is dangerous; we might close the forex signal manually.