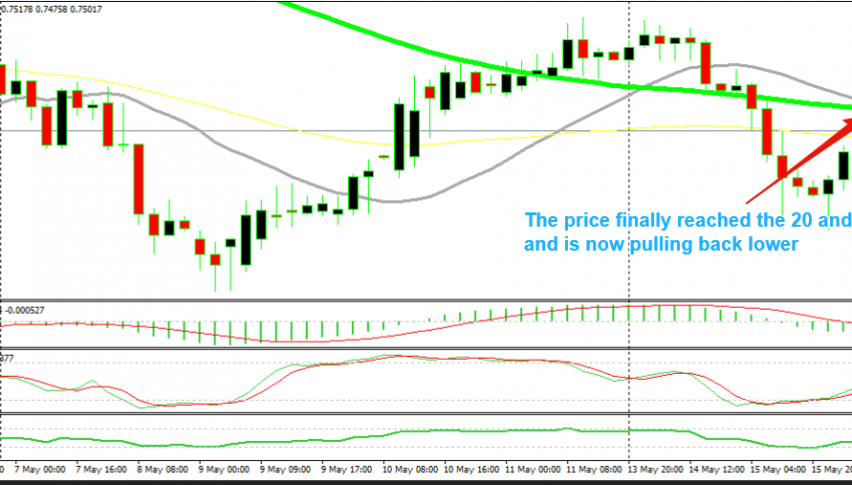 Waiting for the Right Time – Shorting AUD/USD 
Today in the morning we opened a sell forex signal in NZD/USD. We said that we would open another signal in AUD/USD and we did a while ago. I mentioned this forex pair in the midday brief around 5 hours ago, so it took us some time, but we can't do anything about it.
You don't just open trades because you want to trade. You open trades when the price gets to important levels and the chart setup tells you that the trend is going to change. That's the reason why we didn't sell AUD/USD when we sold NZD/USD. We waited for the chart to tell us just that which it did. Now, let's have a look at what the charts look like.
As you can see from the H4 chart above, the price reached the 100 SMA (green) and the 20 SMA (grey). We were waiting for the price to reach those two moving averages since they have provided resistance before, particularly the 100 SMA. The stochastic indicator is nearly overbought, which means that the pullback is almost complete. So, this chart is setting up for a reversal.
The pullback seems complete on the H1 chart too
The H1 chart looks like it is about to turn bearish as well. Here we have two 100 SMAs, the simple (green) and the smooth (red) which are providing resistance. The 30 pip jump a couple of hours ago took us to the 100 SMAs. The candlestick of the last hour closed as an upside-down hammer, which is a reversing signal, so this chart looks like it is about to turn bearish as well. Had we gone short before on this pair, we would be 30 pips in loss now. So, waiting for the right time and the right levels is important in forex. It's a bit boring and anoying, but it saves money and makes you money too.
AUD/USD has been making strong gains this week, with the RBA helping the bullish case, but buyers are facing the 200 daily SMA now
3 days ago