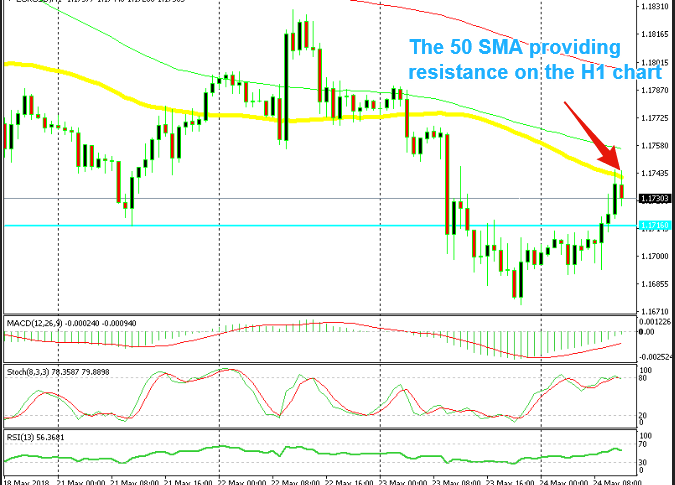 The 50 SMA Providing Resistance Again for EUR/USD
Like all other major pairs this week, EUR/USD has been pretty tough to trade. The price action has been hectic, one day surging 100 pips higher, the next it reverses and loses 150 pips. Yesterday, EUR/USD was extremely bearish, slipping lower the entire day with only minor bounces.
Although, a major pullback began in the late evening and it is continuing today as well. Well, EUR/USD was retracing higher until about an hour ago, because the price action of the last hour points to another reversal, this time down.
EUR/USD made a last spike two hours ago to complete the retrace up and it seems that the 50 SMA (yellow) was the indicator to end the retrace. The price touched the 50 SMA twice in the last two hours and it is starting to fall back down now.
We opened a sell forex signal up there which is well in profit now, although we will let it run its course. The other forex majors are reversing as well now, including GBP/USD which has climbed more than 100 pips since last evening. So, the picture seems to be turning bearish for EUR/USD as well as for GBP/USD. We also opened a sell forex signal on GBP/USD below the 100 SMA on the hourly chart and we are holding both signals.