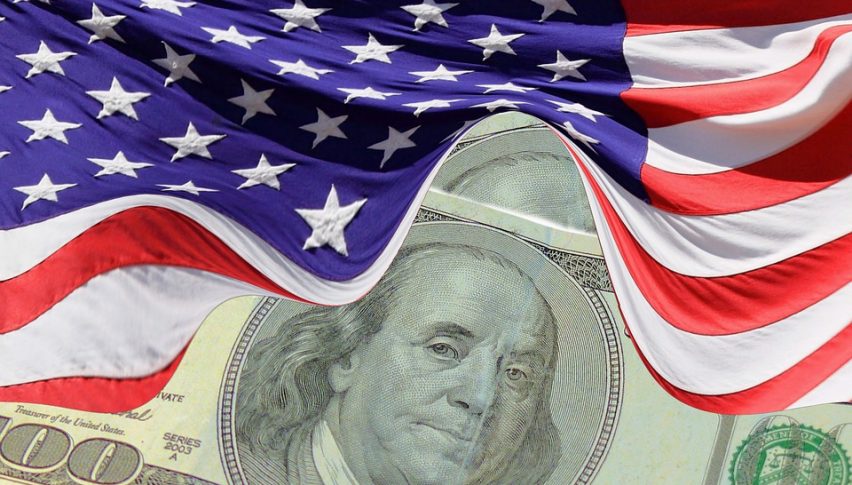 Forex Signals US Session Brief, June 15 – The USD Makes a Pullback Before the Next Assault
Yesterday, the ECB kept refinancing rates on hold as expected and announced that they will taper off the QE (quantitative easing) programme. The market already knew that so it didn't offer much in regard to the price action in Euro pairs. The statement that followed the rate decision and the press conference from Mario Draghi sounded sort of dovish though.
In the statement, we saw that the ECB is nowhere close to raise interest rates. It said in there that there won't be any rate hikes until summer next year at least. Until then, it's a very long time and things might turn upside down, so the market took that as a dovish sign.
The economic growth was lowered as well and that's what it took for the Euro to start the journey south. EUR/USD lost around 300 pips from top to bottom, although some of that move came from the USD side after the US retail sales posted a nice jump. The same price action continues today, but there is a last round of economic data to be released from the US, which might change the situation, so let's have a look at the economic calendar.
The European Session
BOJ Press Conference – Bank of Japan Chairman Kuroda held a press conference earlier in the European session. He said that the Japanese economy is only expanding moderately and that long term inflation has been slow to improve. Inflation is picking up in Europe and in the US, so Japan is really behind. USD/JPY resumed the uptrend after those dovish comments.
Eurozone Final CPI YoY – The final consumer price index inflation report was expected at 1.9% and it came as expected. That's quite a jump from 1.2 that we saw last month, which makes this a confirmation that inflation is moving in the right direction in Europe, unlike in Japan.
Eurozone Q1 Labour Costs – The labour costs picked up by 2% this time, against 1.5% previously. Wages also came higher at 1.8% this quarter from 1.7%. Wages and labour costs are picking up nicely in Europe as well as in the US, so that is a really good sign.
Italy April Industrial Orders MoM – The industrial orders declined by 1.3% in Italy. This shows that the Italian economy is suffering from the political situation there, although industrial production was weak in Germany and France as well this month.
More US Tariffs on China – Reuters reported today that US officials are preparing another list of Chinese products to impose tariffs on. It is estimated to be worth around $100 billion. We haven't heard any comments from the Chinese side but it seems that the trade war is here.
The US Session
Canadian Manufacturing Sales MoM – The Canadian manufacturing sales are expected to grow by 0.6%, down from 1.9% and 1.4% in the last two months. Perhaps the US tariffs are weighing on Canadian manufacturing products already.
Empire State Manufacturing Index – Last month, this index jumped from 15 points to 20 points. Today it is expected to come slightly lower at 19 points, although that would still be a good number. It came at 25 points right now, which means that the US manufacturing is heating up.
US Industrial Production MoM – The industrial production is expected to grow by 0.2%, down from 0.7% last month. Industrial production has beaten expectations 4 out of 5 times this year, so I expect another positive number considering the positive economic data we have seen from the US lately.
Prelim UoM Consumer Sentiment – The consumer sentiment used to be above 100 points in February and March but dipped below in the last two months. It is expected at 98.5 points today, up from 98 points last month after revisions, but again, I have a feeling that this will be another positive surprise for the US.
Trades in Sight
Bearish USD/JPY
The 50 SMA is providing support
Stochastic was oversold but it is heading up now
The BOJ sounded dovish again
The 50 SMA has been a strong support indicator today
We opened a buy forex signal in this pair a few hours ago. The price was finding support at the 50 SMA and a doji candlestick formed. USD/JPY started reversing and moved 20 pips higher after we opened the signal, but it has dived back down in the last hours. Although, the 50 SMA is still standing strong.
In Conclusion
The Canadian manufacturing report was just released and it showed that manufacturing sales dropped by 1.3%. On the other side of the border, the US manufacturing looks in decent shape as the Empire state manufacturing index came at 25 points, up from 19 points expected. The trade war is working well for the US, isn't it? Sorry Canada.