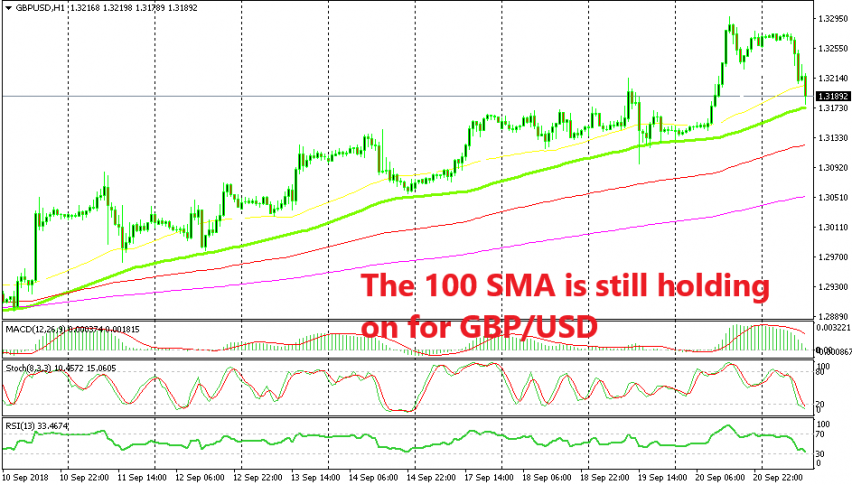 The GBP Makes a Bearish Turn on New Brexit Rumors
The GBP has been on a strong bullish run this week. The economic data from Britain has been pretty upbeat recently, with inflation jumping to 2.7% and retail sales posting some very decent numbers, especially last month's revisions.
So, we have seen some strong bids in GBP pairs this week which made it a bit scary going against it during this time. This morning though, we are seeing a bearish turnaround in the GBP. GBP/USD made a reversal just below 1.33 and it is now 100 pips lower.
EUR/GBP has jumped higher but we will take a better look at this pair on the next forex update. The reason for this sudden reversal in the GBP were rumours about Brexit. We heard some rumours today that Theresa May will have to rewrite her Chequers Plan.
That news gave the GBP the first hit and soon after, Scotland's Sturgeon commented that Theresa May has to stop her pretentious Chequers Deal. The Chequers Plan was the main Brexit plan from the UK, so if that goes then we go to point zero once again.
We heard some more news later on. Reuters posted some comments which suggested that Prime Minister May will issue a big statement today, but May's office ignored those rumours. GBP/USD lost more than 100 pips on those rumours, but the 100 SMA (green) held its ground once again and has kept the uptrend in place so far. But, we will see if it will survive this wave of selling today as the day progresses.