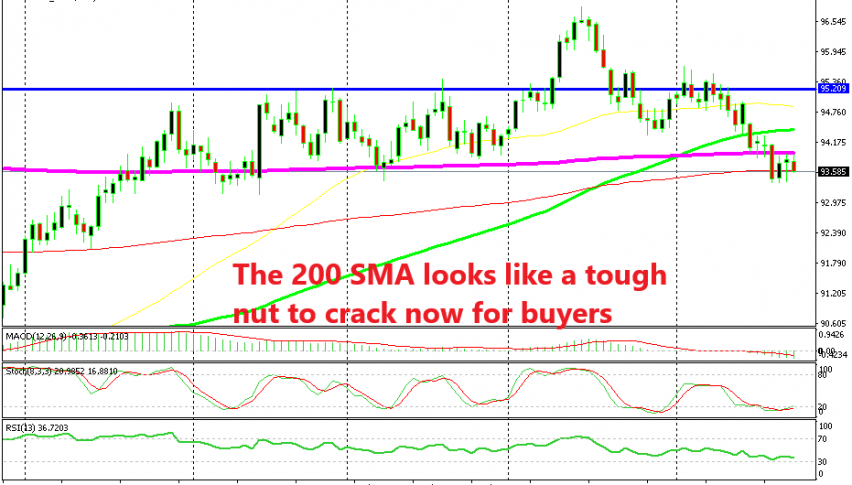 What Was Once Support Turns Now Into Resistance For the USD Index
The Dollar Index USDX has been on a bullish trend since the beginning of the year. It broke the resistance area at 95 points for a week or two but it fell back below it and since then the trend has reversed to bearish.
The buyers tried to push the USD index back above the support & resistance area around the 95 level at the beginning of this month, but they failed and the bearish trend stretched further down from there. The 200 SMA (purple) provided support for a few days last week and the price formed two dojis just above it, so it seemed like a bullish reversal was coming.
But, the sellers remained in control, as we have seen in USD pairs during this time. The 200 SMA was broken and it has now turned into resistance. This moving average has been providing support for the USDX for a few months during the summer, although they are both over now unfortunately, the summer as well as the 200 SMA as support.
Now it seems like the 200 SMA will give USD buyers a headache for some time. We see that the high in the last three daily candlesticks has been the 200 SMA where the price has reversed back down. It was a strong support while it lasted and now it has turned into a strong resistance.
Although, the price is still pretty close to it and the jump in the US consumer confidence today might give the buyers the reason they were waiting to turn this index bullish, But with the FED meeting coming tomorrow forex traders have decided to stay on the sidelines, so until that meeting is over tomorrow, I think that we will hang around here in linger.