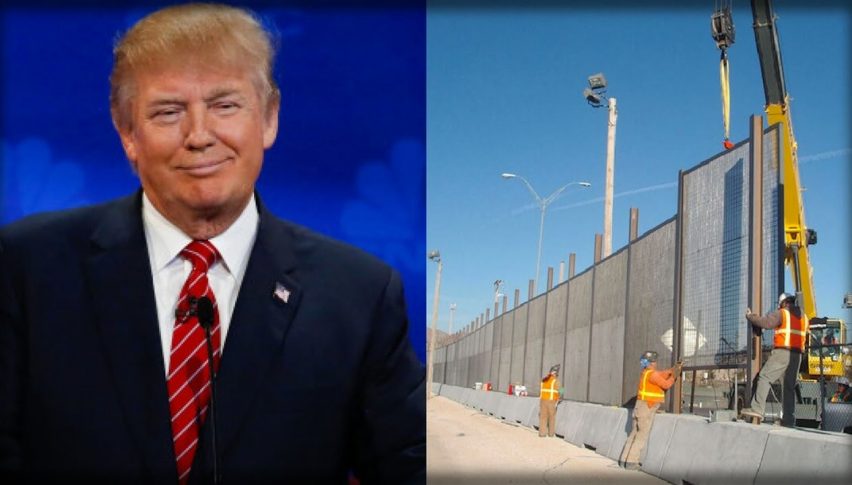 US Session Forex Brief, Dec 21 – Wrapping Up 2018 With A Bang
Today is the last day of the year as far as trading is concerned. Yes, there is still Monday next week and Thursday and Friday, but the economic calendar is pretty empty until after New Year's day and most of the major players will start their winter holidays won't be back until January.
So, today is the day that trading is still normal. After today, the liquidity will decrease dramatically for about two weeks which makes trading pretty difficult. The volatility will be pretty low and if there are any moves, they're likely to be in the form of a spike, a quick jump or decline and then nothing. So, take care if you'll be trading during this period.
Although, we had some really important economic reports being released today which wrap up the year. The UK GDP report was released this morning and it remained unchanged for Q3, but business investment is 1.8% lower for the year up to the end of the Q3, while the trade balance deficit widened further.
In the afternoon, the US Q3 GDP and durable goods orders were released and they leaned slightly on the weaker side. The Canadian GDP report and the retail sales for October were also released at the same time. Retail sales missed expectations, while core retail sales fell flat in October, but the GDP increased more than expected, reversing the bearish trend which saved the CAD.
For the rest of the day we will have to see what goes on in the US Senate. The House passed a $5.7 billion bill for the wall between US and Mexico. But, the bill has to go to the US Senate today and the Republicans don't have enough votes to pass the bill, so they are hoping to get some votes from the Democrats or Trump is threatening a long shutdown of the government.
He is pushing for a change in rules to pass the bill with 51 votes against 60 votes that it actually requires. So, this will drag until late evening and it is likely to turn the market sentiment sour and send stock markets down.
The European Session
France Consumer Spending – The consumer spending declined by 0.35% in November against 0.0% expected. October was revised higher to 0.9% from 0.8% previously. But the YoY number was pretty bad coming at -2.0% against -1.6% expected.
UK Final Q3 GDP – The final reading of the Q3 GDP remained unchanged at 0.6% as expected. Although, the business investment declined by 1.1%, but that's a tick higher than the 1.2% was saw in the prelim reading. For the year-to-date ending at the end of Q3, business investment declined by 1.8%. Trade balance also came lower, increasing the deficit to -26.5 billion Pounds. But the public sector net borrowing also came lower to 6.3 billion Pounds against 7.0 billion expected.
ECB Worried About China's Economy Slowdown – Sources from MNI quoted this and some of those sources say that the ECB might push back interest rate hikes even further. The Chinese economy has slowed down considerably this year despite efforts to stimulate the economy, both fiscal and monetary, and the ECB is afraid it might have a global impact.
Donald Trump Pushes for the Wall – US President Donald Trump is pushing for the wall on the Mexico border today after the House passed the bill yesterday to fund it. Here is his tweet:


"Senator Mitch McConnell should fight for the Wall and Border Security as hard as he fought for anything. He will need Democrat votes, but as shown in the House, good things happen. If enough Dems don't vote, it will be a Democrat Shutdown! House Republicans were great yesterday!"
The US Session
US Final Q3 GDP – The final reading for the Q3 GDP was released a while ago and it showed a smal tick lower to 3.4% from 3.5% previously. Personal consumption and core personal consumption ticked higher in Q3 to 1.6% from 1.5% in the previous reading and The GDP price index also ticked higher to 1.5% from 1.4% previously.
US Durable Goods Orders – Durable goods orders increased at 0.8% but that's half of what was expected. Last month's number was revised a tick higher to -4.3% from -4.4%. Although, core durable goods orders declined by 0.3% in November after missing expectations and cooling off in the last four months. Capital goods orders non-defense excluding air came at -0.6% versus +0.2% expected. The prior month's was revised higher though, to 0.5% from 0.0% previously.
Canadian October GDP – The Canadian GDP for October was one of the only positive numbers from the round of data just released from North America. It increased by 0.3% that month after having shrank by 0.1% in September. The Canadian Economy has been cooling off during summer and it contracted by 0.1% in September, so it is good to see a nice turnaround in October as the economy expanded by 0.3% that month against 0.2% expected. Manufacturing grew by 0.7% in October which makes up for the declines in the previous two months. The industries providing services also increased by 0.3% which is the highest increase since May this year.
Canadian Retail Sales October – Retail sales increased by 0.3% against 0.4% expected. Although, the number for September was revised down to just 0.1% from 0.2% previously. Core retail sales posted another weak number today as they fell flat at 0.0% in October. Although, core sales excluding autos and gas came at +0.4% which is not too bad.
US Core Price Index – The US core price index for November will be released shortly and it is expected to tick higher to 0.2% from 0.1% previously. That would bring this indicator back to its normal trend after falling to 0.1% in October.
Personal Spending – Personal spending jumped higher by 0.6% in October which broke the range of 0.3%-0.4%. Although, today's report is expected to show a cool off and a decline to the normal trend for November as the number is expected at 0.3%.
Trades in Sight
The trend has turned bullish for EUR/CHF this week
The retrace lower was complete
The 100 SMAs were providing support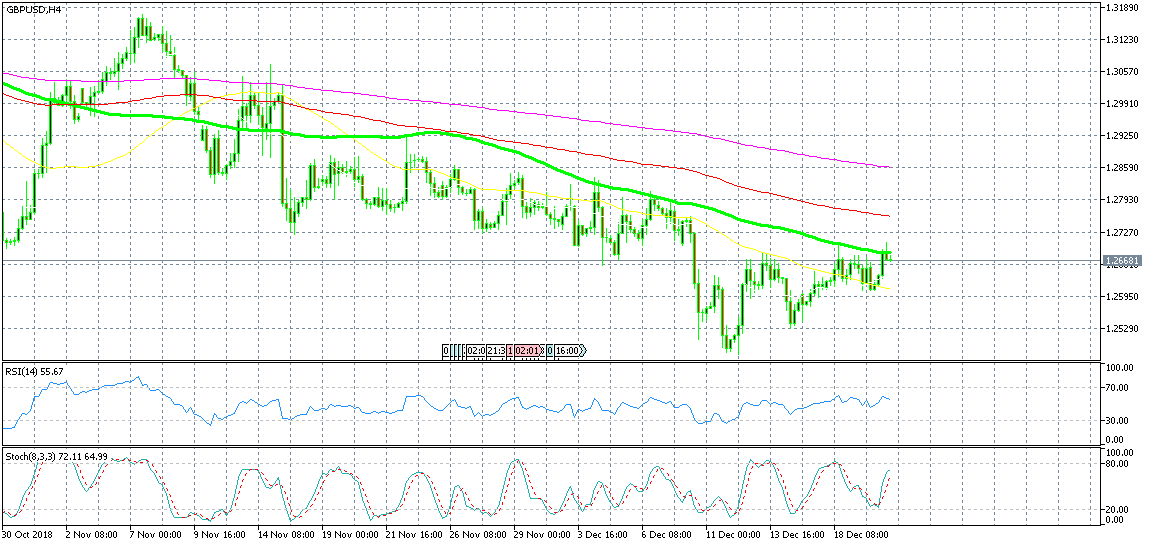 The 100 SMA has been providing solid resistance for quite some time
We bought EUR/CHF a while ago today as this pair was retracing down. This pair retraced lower last night and the retrace became complete on the H4 chart today as stochastic became oversold. So, we decided to get on this trend by opening a buy forex signal at the 100 SMA (green) on the H4 chart since it was providing solid support. The price has bounced from that moving average but the 100 smooth MA (red) is making things a bit difficult for us since it is providing resistance above.
In Conclusion
Here we are near the end of the year. From next week though, the markets will be on holiday mode for about two weeks. Although, we still have some more time to go today and Donald Trump is pushing the Mexico wall bill in the Senate where Democrats have the majority. If they don't, then we may face a government shutdown which would hurt stock markets, so we will keep an eye on that