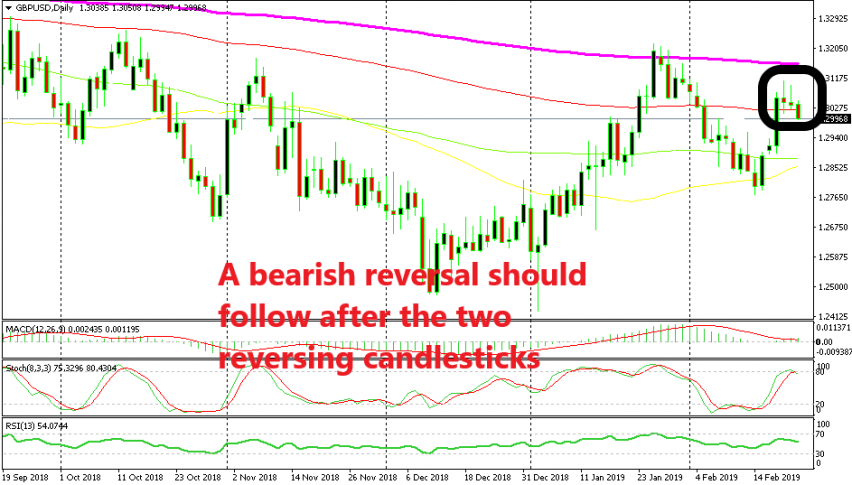 Is GBP/USD Going to Turn Bearish Next?
GBP/USD made an impressive bullish reversal during December, and especially during January as this pair climbed around 8 cents during that month from the bottom to the top. But we saw another bearish reversal during the end of January and the first half of this month.
The Brexit process keeps going through great uncertainty as it swings from one day to another and the GBP keeps following it up and down. This week, GBP/USD turned bullish again as the daily time-frame shows, but it has now formed a bearish reversal on this chart, so is a decline coming up next week?
Well, the chart setup on this time-frame surely points to a bearish reversal next week. The stochastic indicator is now overbought which means that this pair is overbought and it is already reversing lower. Besides that, the last two daily candlesticks have formed a spinning top or doji if you want to call it that and an upside-down hammer, both of which are reversing signals after a bullish move, so the technicals support this scenario.
The support for Theresa May is dissipating in the British Parliament as MPs from both sides keep leaving the two main Parties, which increases the uncertainty coming from British politics. Yesterday we heard that two more Conservative MPs might leave the Party, which would mean that May will lose her majority. Therefore, the fundamentals point down for this pair as well.
Although, you can't bet your house on the GBP right now because you never know what's coming. But that's the picture right now, so if you want to go short, make sure to put the stop above the 200 SMA (purple). The risk/reward ratio is still pretty good.