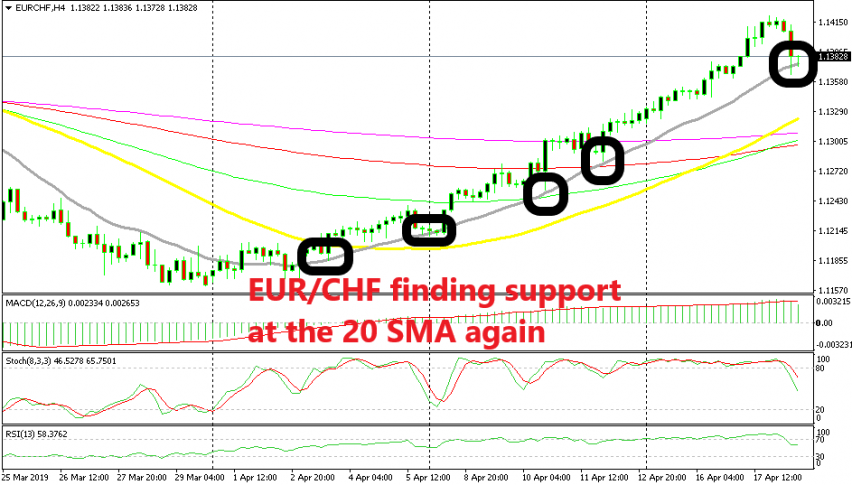 Looking to Buy EUR/CHF as it Retraces Lower to the 20 SMA on Safe Haven Demand
Safe havens have been getting beaten up in the last few weeks as markets sentiment has improved somewhat compared to a month or so ago. As a result, safe haven currencies, as well as Gold, have been on a declining trend. As I highlighted in a previous forex update today, the long term trend has finally shifted in Gold from bullish to bearish and the resistance levels at $1,285 and $1,275 this week confirmed it.
The CHF was on a bullish trend during March, as observed from the 250 pips decline in EUR/CHF in the second half of that month. But, the trend started to reverse at the beginning of this month and the Swiss National Bank (SNB) helped considerably when they threatened with interventions a few weeks back, which was the first reason for the bullish reversal, as well as the improving sentiment in financial markets.
Since then, all traffic has been in one direction – up. The pullbacks have been really minimal, which shows the strength of the bullish trend this month. Another sign which shows that the trend is really strong is the fact that during this time EUR/CHF has been leaning on the 20 SMA (grey) on the H4 chart.
This moving average has defined the trend and provided support during the weak pullbacks lower. The smaller the moving average to define the trend, the stronger the trend is. Although today, we saw another retrace lower worth 55 pips. This is the deepest pullback so far which seems like a good opportunity to go long with the flow.
It seems like the 20 SMA is providing support once again for this pair. The H4 chart is not oversold yet, but during the uptrend, this pair has been close to being oversold just once at the beginning of the month, so don't expect deep pullbacks with the way the uptrend has unfolded. So, whoever wants to go long, this is a good opportunity.