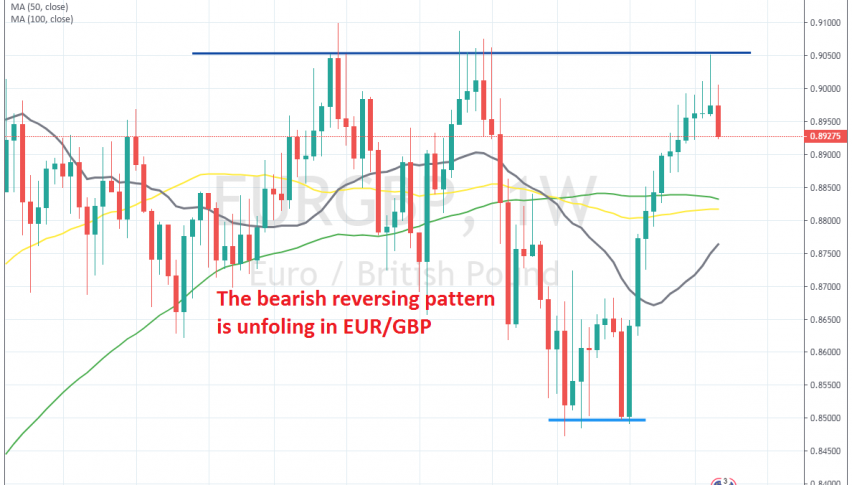 The Uptrend is Over for EUR/GBP
EUR/GBP has been on a bullish trend since early May when it formed a double bottom at 0.85, which formed a support zone around it. The price bounced off that support area after failing twice to break below it and since then the pressure has totally been on the upside.
You can see from the weekly chart above that all weekly candlesticks are bullish, until this week. The uptrend has been really straightforward, with the UK heading off from the EU without a Brexit deal and we have had quite a few winning signals going long with the trend in this pair.
But, EUR/GBP reached an important zone in recent weeks where it has found solid resistance twice before and has reversed from there, from what we can see on the weekly chart. The resistance zone stretches from 0.9050 to 0.91. In the last three weeks, the price has formed a doji candlestick, an upside-down pin and an upside-down hammer, all of which are reversing signals.
This week's candlestick looks pretty bearish already, showing an 80 pip decline so far, so the bearish reversing pattern is working. This pair is severely overbought, so a pullback lower makes sense, especially now that the European Central Bank is about to turn dovish again after a number of really weak manufacturing reports from the Eurozone.
On the other hand, the GBP should be steady for some time now that the new UK Prime Minister is elected and should continue like this until we hear from the EU again that nothing substantial can change in the Bexit deal offered to the UK. Until then, this pair is expected to remain bearish and we will try to trade the downside, selling the retraces higher.