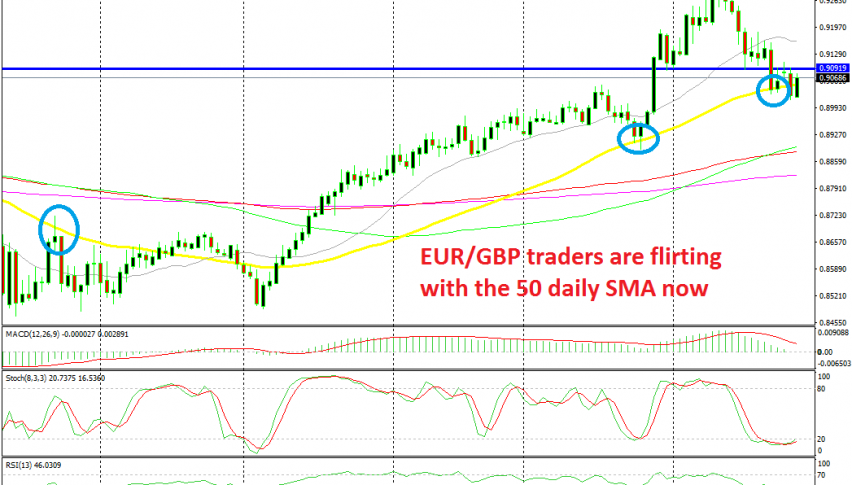 The Trend Might Have Ended for EUR/GBP After the Break of the 50 SMA
EUR/GBP has been on a bullish trend since early May when it reversed higher at 0.85. The trend was strong during May but it slowed in June and July and the 20 SMA (grey) was providing support for this pair after it caught up with the price. So, the 20 SMA was pushing the trend higher back then.
But towards the end of July we saw a dive lower after the European Central Bank meeting which suggested that the ECB might start another stimulus package, which would send the Euro tumbling. Although, the situation is worse in Britain and the decline in the GBP reversed this pair higher.
The 50 SMA (yellow) did a good job as well in providing support for EUR/GBP. The price bounced nearly 500 pips higher in off the 50 SMA, so that moving average turned into the ultimate indicator for the uptrend in this pair. In the last two weeks we have seen EUR/GBP retrace lower again but the 50 SMA provided support again.
EUR/GBP opened with a gap higher on Monday, but after forming a doji candlestick on the daily chart on Monday, which is a reversing signal, the sellers gained more confidence and yesterday they pushed below the 50 SMA for the first time since early May. This might be a signal that the bullish trend is over for this pair now. Fundamentals might reverse the situation pretty quick in this pair, but if the price stays below the 50 SMA, then the uptrend is in jeopardy.