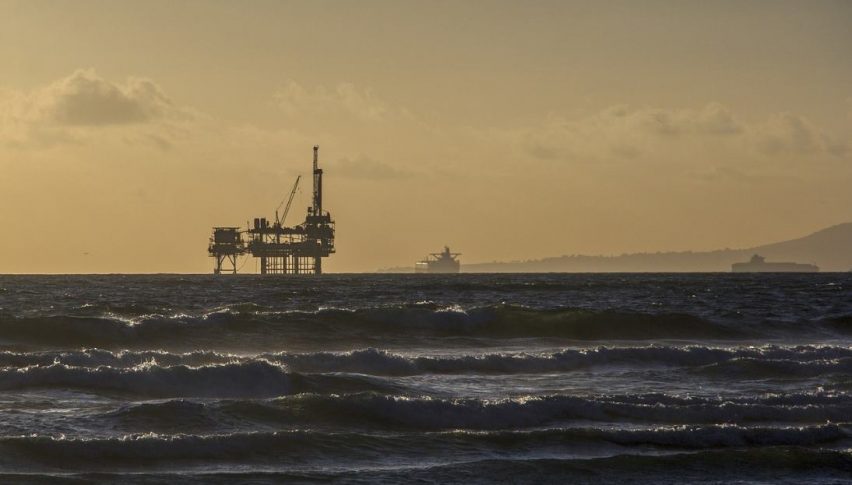 WTI Weekly Recap: September 16-20
Posted Saturday, September 21, 2019 by
Shain Vernier
• 2 min read
Last week was a big one for WTI crude oil and energy traders. The action began on Sunday's electronic open with a $5+ GAP up in October WTI futures. Tuesday brought a retracement and full rollover to the November WTI futures contract. Wednesday, Thursday, and Friday featured tightened trading ranges fueled by FED rate cuts and supply reports. All in all, it was an exciting week to be a crude oil trader.
The Current State Of WTI Crude Oil
From a supply standpoint, we are beginning to see the influx of fall seasonal trends. Last week's API and EIA crude oil inventories reports showed strong week-over-week builds in supply. This is in line with expectations, as the peak summer demand months in the Northern Hemisphere are drawing to a close.
Friday brought another release of the ever-shrinking Baker-Hughes Rig Count. U.S. drill rigs in operation counted 719, down from last Friday's figure of 733. The downtrend in North American drilling operations continues as depressed WTI pricing has made fracking shale oil a non-starter. Be on the lookout for this trend to intensify as the fall and winter months set in.
On the political front, it appears as though the U.S. is blaming Iran for last weekend's drone strikes on Aramco production facilities in Saudi Arabia. Since the attacks, U.S. President Trump has hammered Iran with increased sanctions. Friday brought the announcement of U.S. sanctions against the Iranian national bank, the nation's supposed only financial conduit to the outside world.
In response to these developments, November WTI crude oil futures closed the week down more than $1.50 from Monday's open ($60.16). At this point, it appears that traders are valuing global economic uncertainty and fall seasonality over Middle Eastern tensions.
November WTI Crude Still Bullish ― For Now
From a technical perspective, November WTI crude oil is still in an uptrend following Monday's massive GAP up. However, the bulk of this week's active trade has been negative. While price remains above the 62% Fibonacci retracement of the spike, WTI has the feel of a market ready to crash.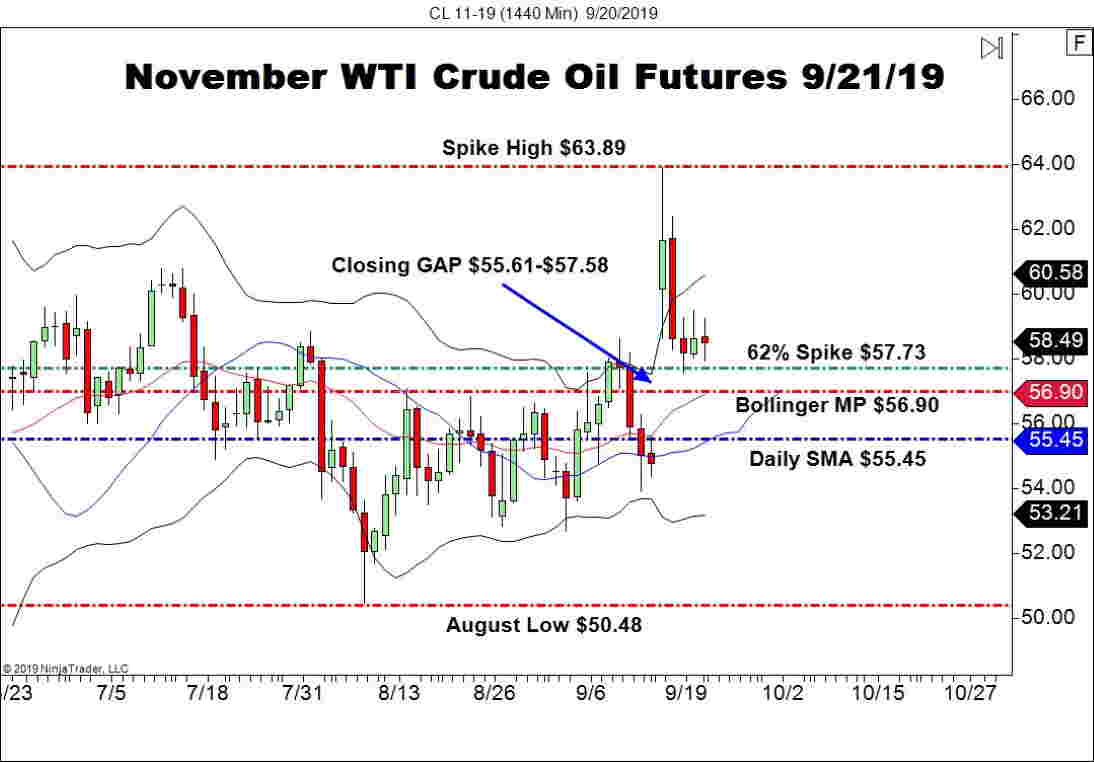 These are the key numbers for Monday's trade:
Support(1): 62% Spike Retracement, $57.73

Closing Week GAP: $55.61 to $57.58

Weekly Low: $57.58
Overview: Early next week is going to be a pivotal time for WTI crude oil. The market is poised to see heavy participation yet again, with the results being largely unpredictable. Here are three possible scenarios to watch as the opening bell rings on Sunday afternoon:
A test beneath last week's bottom at $57.58 will very likely produce a swift, bearish breakout to at least the $57.00 area.

The 62% Spike Retracement ($57.73) is the key to WTI pricing. If bidders protect this level, a bullish bump back to $60.00 is a possibility. If not, a strong short side bias is advised.

One fundamental rule that drives price discovery is that GAPs are eventually filled. It is a safe bet that price will fill in last week's Closing GAP ($55.61-$57.58) before September is over.
The coming week has the potential to be a great one on the WTI markets. It is the final full trading week of September, so buckle up and be ready for some action.