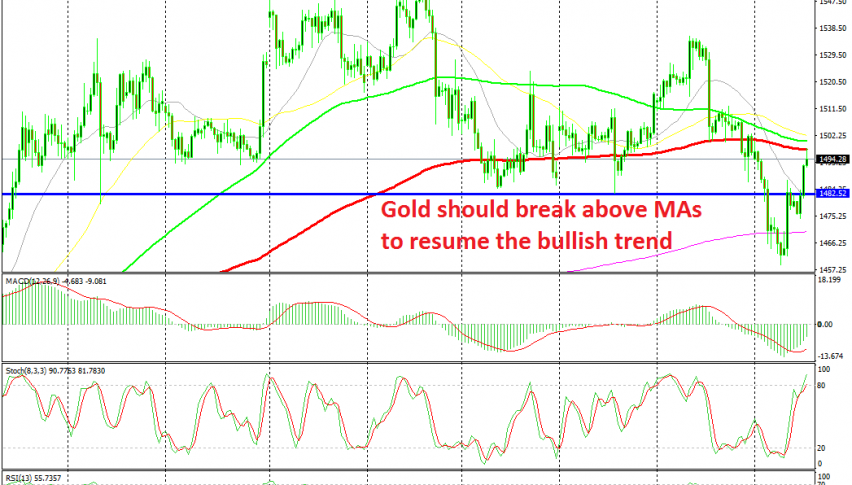 Gold Faces the 100 SMA on the Upside Now as Sentiment Turns Negative
GOLD has been bullish for more than a year. It has benefited greatly from the trade war, which has turned the sentiment negative. But, we saw a bearish reversal this month as the sentiment improved on softer tones from US and China, which improved the sentiment.
So, Gold has been retreating lower this month and it was on the decline until yesterday in the afternoon, when the US ISM manufacturing PMI came out. This indicator declined below 50 points in August, meaning that the manufacturing sector fell in contraction in the US.
Albeit, the contraction was slight. Yesterday this indicator was expected to return above 50 PMI points but it fell further, declining to 47.8 points, which means deeper contraction for this sector. The sentiment turned negative immediately after that and safe havens turned bullish. Besides that, the USD turned soft and, as a result, Gold had two reasons to rally.
Gold has climbed around $40 in the last two days since it reversed from the lows. But now Gold is facing the 100 SMA (red) on the H4 chart, as shown above. This moving average has provided support earlier this year when Gold was surging higher, now it seems to have turned into resistance.
This will be the deciding indicator whether Gold will turn bullish again and resume the long term uptrend, or if it will turn bearish again and continue this month's trend. The 100 SMA has rejected the price in the first attempt, so we will follow the price action to see what decision Gold traders will make.