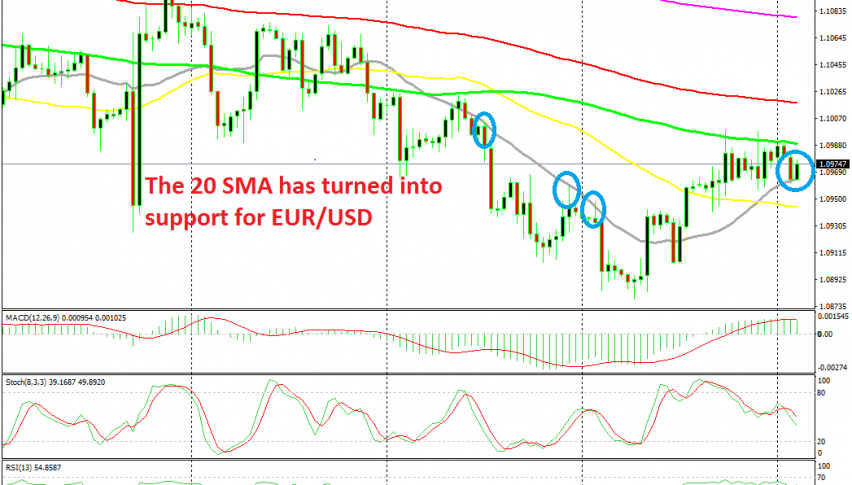 EUR/USD Remains Stuck Between 2 MAs, as the 20 SMA Turns From Resistance Into Support
EUR/USD turned pretty bearish in the last two weeks of September as the USD buyers returned, while the economy of the Eurozone deteriorated further. But last week the trend reversed. The US ISM manufacturing and non-manufacturing PMI report came in pretty weak, with non-manufacturing heading towards stagnation, while manufacturing fell deeper in contraction.
As a result, the USD turned bearish on fears that the US economy might be heading where the Eurozone economy is. The USD lost ground against all major currencies and EUR/USD climbed more than 100 pips. Although, the buyers gave up just below the big round level at 1.10.
The 100 SMA (green) is standing just below 1.10 as well and that moving average has been providing solid resistance. EUR/USD failed twice last week at the 100 SMA and once again this morning. This pair reversed down earlier today, but the 20 SMA (grey) provided support. The 20 SMA has been providing resistance in the last week of September when the price was declining, so it seems that now it has turned into support.
Now, EUR/USD remains stuck between these two moving averages. I was expecting the price to decline further today and reach the 50 SMA (yellow), but it reversed higher, at the 20 SMA. This is a sign that buyers are still in control in this pair. We are already long on EUR/USD since last week, so this sort of price action goes in our favour.