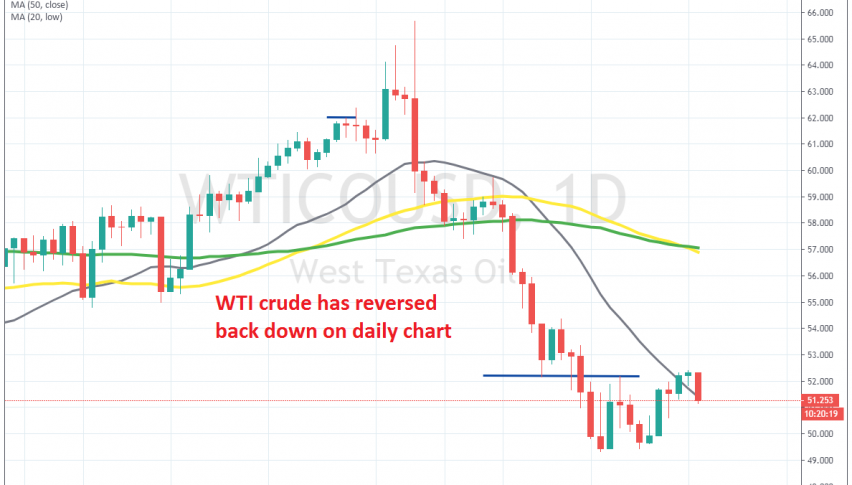 Crude Oil Climbs Above the 20 Daily SMA
Crude Oil has been bearish since the second week of January, as the sentiment turned pretty negative due to the outbreak of coronavirus. The pandemic hurt the demand for Crude Oil in China, as business remains minimal in large parts of the country.
In the previous month, Crude Oil was bullish, after OPEC+ decided to cut production by 50k barrels/day. But, the effect of coronavirus is much larger, hence the swan dive for US WTI crude, falling from above $65 to below $50. The retraces have been pretty weak, so sellers have been in total control during this time.
But, in the last several days we have seen a retrace higher. OPEC is thinking about cutting 600k barrels/day from production, by placing new quotas, but Russia hasn't decided yet and doesn't seem too happy with it. Nonetheless, Oil has reversed higher and has climbed above the 20 SMA on the H4 chart. But, this might be a good chance to sell Crude Oil. But, odds remain 3:1 in favour of longs from here on. So, we're holding on for now, observing the situation with OPEC and the price action.
Shorts
The main trend is still bearish
Coronavirus is still spreading
Longs
The price has fallen too far, too fast and a decent pullback is due
Coronavirus might be brought under control soon
OPEC+ might deliver a large production cut