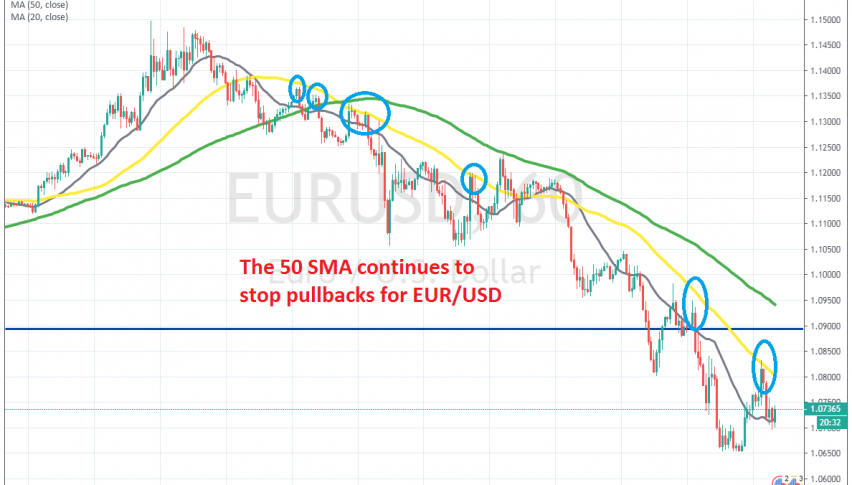 EUR/USD Trading Between 2 MAs Now
Like all other currencies, apart from the USD which is acting as a world reserve currency now, the Euro has suffered some large losses. EUR/USD has declined from 1.15 in the first couple of weeks of this month, to 1.0650 yesterday. That's a massive decline, but that's the situation now across the board with all currencies and other instruments.
There have been some nice pullbacks, which have offered some great selling opportunities in the last few weeks. During this time, moving averages have done a great job providing resistance during pullbacks higher, reversing the price and pushing this pair lower.
The 50 SMA (yellow) in particular has been a great resistance indicator on the H4 chart. Yesterday EUR/USD fell to 1.0650s, but the price retraced nearly 200 pips higher overnight. Although, the retrace ended right at the 50 SMA once again, and now sellers seem to be in control again.
The price is hanging around the 20 SMA (grey) now, but I think that the 20 SMA will go soon. I missed opening a sell signal here this morning, but we already have two long term sell signals in NZD/USD and AUD/USD, so don't want to get too exposed, since markets are mostly trading the USD now, as a global reserve currency.
The US consumer is softening as intertest rates go up, which is a factor for the USD retreat and for the FED to stop hikes
2 days ago