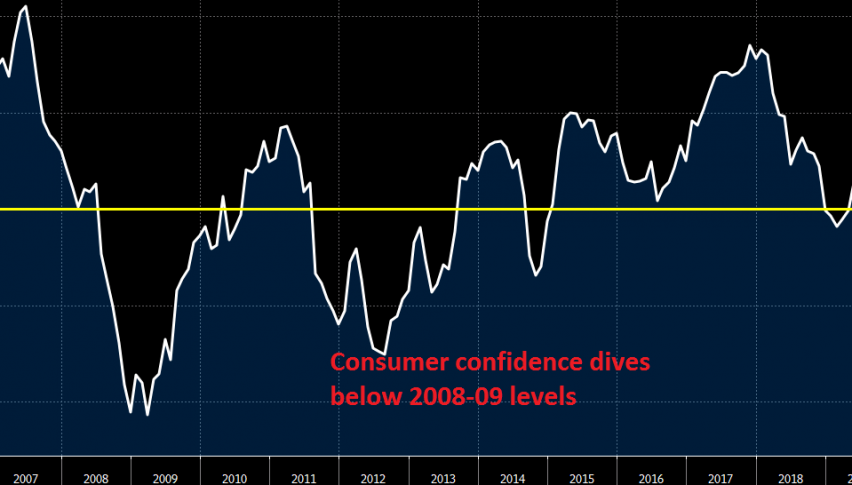 Investor Confidence Dives to Record Lows in the Eurozone
The Sentix investor confidence weakened considerably last year in the Eurozone, as the trade was hurt the global economy. It bottomed at around -17 points in October but started to improve on prospects of the Phase One deal between US and China and in the last three months from December to February it turned positive.
But, we knew it wasn't going to last, when the global economy has almost shut down. In March it fell to -17.1 points, while today's report showed that the confidence dived to the lowest levels in April, since the 2008-09 crisis. Below is that report, as well as some other reports from the Eurozone, showing how bad things are at the moment:
Eurozone Sentix Investor Confidence Report
April Sentix investor confidence -42.9 points vs -37.5 expected
February investor confidence stood at-17.1 points
German factory Orders Report
German March factory orders -1.4% against -2.7%
February factory orders stood at 5.5% but was revised lower to 4.8%
German Construction PMI Report
Germany March construction PMI 42.0 points vs 55.8 prior
February construction PMI stood at 55.8 points
UK Construction PMI Report
UK March construction PMI 39.3 points vs 44.0 expected
February construction PMI stood at 52.6 points
No surprises here, as investor morale declines sharply, surpassing the lows even seen during the 08-09 financial crisis. The headline reading is the record low for the Sentix survey as economic conditions in the euro area slump amid the virus outbreak in the region. In UK, the construction activity slumped by more-than-expected with the drop being the steepest rate since April 2009. The virus outbreak and lock-down measures associated have led to a stoppage of work on site and a slump in new orders.
EUR/USD has turned bullish in the last two days, but we decided to open a sell forex signal at parity
3 months ago
The economic indicators are getting worse in Europe as inflation surges, which will weigh further on the Euro
4 months ago
The economic situation is worsening every day in Europe as prices keep increasing while an energy crisis is expected in winter
5 months ago