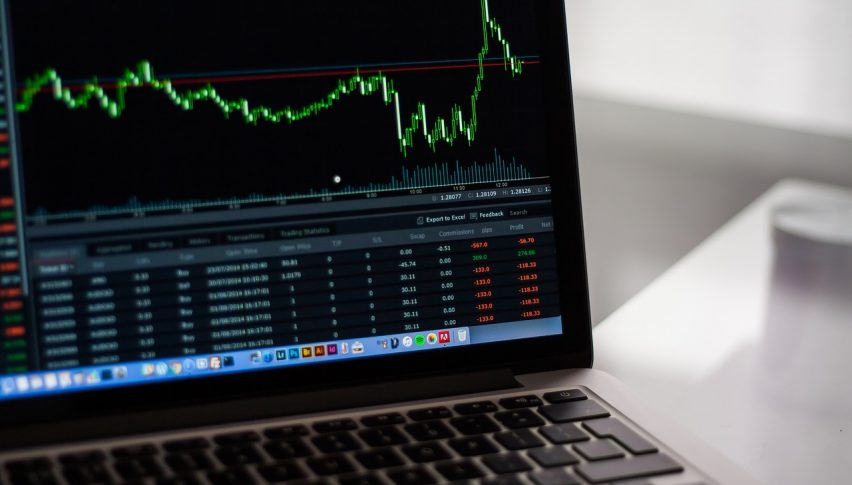 A Rough Post-FED Session For U.S. Stocks
Following a strong Wednesday session, U.S. stocks are trending south. Through the first half of the trading day, the DJIA DOW (-335), S&P 500 SPX (-35), and NASDAQ (-45) are all in the red. Thus far, the weakness is being attributed to the harsh, cold reality of COVID-19 economic fallout.
Yesterday afternoon, FED Chairman Jerome Powell addressed the public after the regularly scheduled April FOMC Meeting. The tone was ominous ― Powell talked at length about an unprecedented rise in unemployment, a decline in growth, and spiking uncertainty. However, he did say that the FED was committed to using "all available means" to fight the strife. This statement propped up market sentiment and sent stocks higher.
It's been a different story today. Another set of dreadful economic metrics have brought more questions to risk assets. Here are the highlights:
Event                                                                          Actual                Projected         Previous
Core Personal Consumption (MoM, March)         -0.1%                    -0.1%                   0.2%
Initial Jobless Claims (April 24)                               3.839M                   3.5M                   4.4M
Personal Spending (March)                                      -7.5%                   -5.0%                   0.2%
All in all, the numbers don't look good. Spending is down and jobless claims are still deep in negative territory. While these figures aren't a surprise to anyone, they do suggest that a recovery may be further off than expected one month ago.
Let's take a look at the technicals for the DJIA and see how U.S. large-cap stocks are faring today.
U.S. Stocks Pull Back, Remain In Bullish Territory
One of the biggest headlines this morning has been the rise in unemployment. Over the past six weeks, unemployment claims total more than 30 million. This is a staggering figure and one that is weighing on June E-mini DOW futures.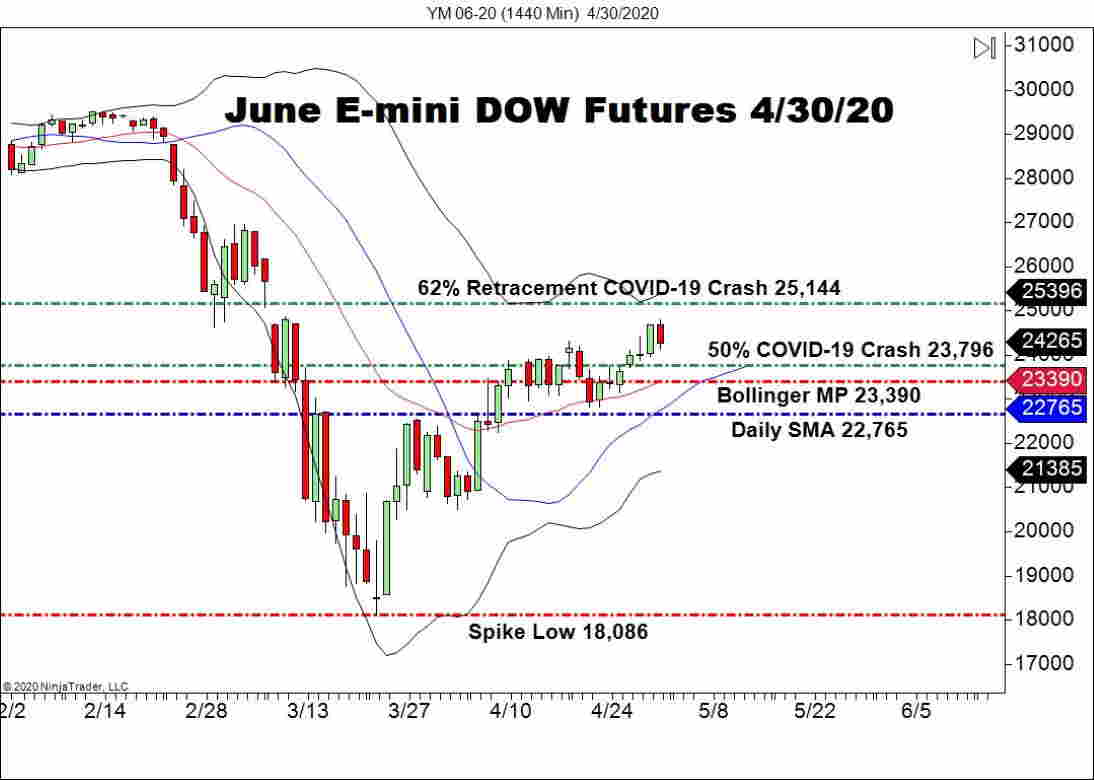 Right now, the DOW is on its back foot. Here are a few support levels to watch as we roll into the Friday session:
Support(1): 50% COVID-19 Crash, 23,796

Support(2): Bollinger MP, 23,390

Support(3): Daily SMA, 22,765
Overview: The Friday U.S. session is going to be a pivotal time for U.S. stocks. The release of the ISM Manufacturing PMI and ISM Employment Index (April) is likely to discourage bids from the DOW, S&P 500, and NASDAQ. Going into the weekend, be on the lookout for a swift sell-off of risk assets as optimism wanes.