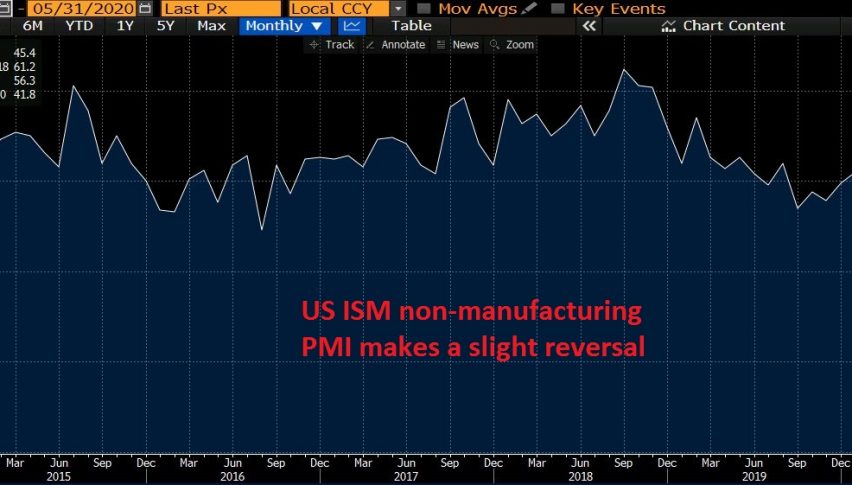 US Non-Manufacturing Remains Muted in May
US ISM non-manufacturing report was released a while ago. This sector fell in contraction in April and remained in contraction in May. But the contraction is not as deep, specially compared to other countries where services dived to almost dead in the last two months. Below is the non-manufacturing report for May, as well as factory orders for April.
US ISM Non-Manufacturing Report, May 2020
ISM non-manufacturing index for May 45.4 vs. 44.4 estimated
The prior report was at 41.8
Business activity 41.0 vs 26.0 last month
New orders 41.9 vs 32.9 last month
Employment 31.8 vs 30.0 last month
Inventory 48.0 vs 46.9 last month
Price is paid 55.6 vs. 55.1 last month
Backlog of orders 46.4 vs. 47.7 last month
Supplier deliveries 67.0 vs. 78.3 last month
Inventory sentiment 55.1 vs. 62.6 last month
New export orders 41.5 vs. 36.3 last month
Imports 43.7 vs. 49.3 last month
Apart from the supplier deliveries, inventory sentiment and prices paid, the other major components remain below the 50.0 level.  The composite index was below the 50 level for the 2nd consecutive month. The high for the index reached 57.3 in February. The low was the 41.8 reading in April.
The good news is that the business activity index increased to 41.0 from 26.0 last month was the biggest increase in records back to 1997. The new orders a jump from 32.9 to 41.9 was also a step in the positive direction although both measures remain in the contractionary phase below the 50.0 level. In comparison, the manufacturing composite index came out last week at 43.1. New orders in the manufacturing index stayed depressed at 31.8 (vs 32.9 in April). Employment was at 32.1 vs. 30.0 in the prior month.
US Factory Orders, April 2020
US factory orders -13.0% vs. -13.4% estimate
Prior month revised to -11.0% from -10.3%
Factory orders ex transportation -8.5% vs. -4% revised (was at -3.7%)
Durable goods orders final -17.7% vs. -17.2% estimate
Prior report Durable goods from May 28th
Durable goods capital goods orders non-defense ex air -6.1% vs. -5.8% in the preliminary report
Capital goods shipments non-defense ex air -5.7% vs. -5.4% in the preliminary report
We are seeing large moves on any decent economic report, which indicates that markets are not certain about a hard or a soft global recessio
3 months ago