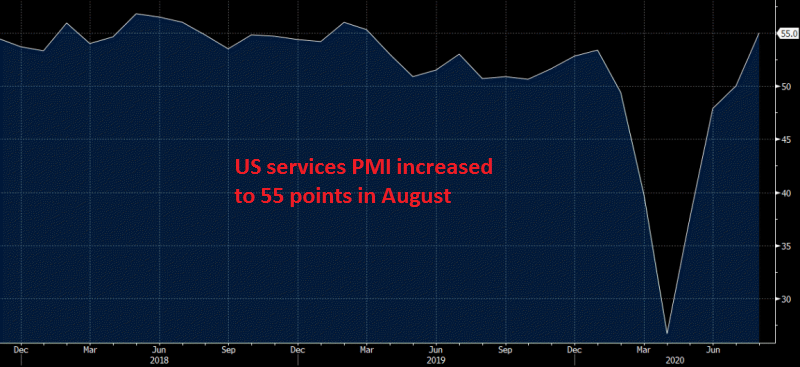 2 More Indicators Pointing Up for the US Economy
The US economy has been doing pretty well in recent month. The restart after the reopening took some time to get the economy going, but it caught up and there are no signs of slowing down, as all sectors are steaming at the moment and the trend points to further expansion int he coming months.
That's despite the slowing global economy and the unrest in the US, which is hurting businesses in some states, like New York and Los Angeles. In the previous week we saw manufacturing activity surge in the US, now we are seeing a surge in services, among other sectors, as the ISM and PMI reports released yesterday showed.
That came after the unemployment claims data showed that jobless claims had fallen below 1 million again last week. So, everything looks great economically in the US, which a little surprising and impressive a well.
August 2020 ISM services report
ISM August services index 56.9 vs 57.0 expected
July services index was 58.
Business activity 62.4 vs. 67.2 last month
New orders 56.8 vs. 67.7 last month
Nacklog of orders 56.6 vs. 55.9 last month
Employment fell to 47.9 from 42.1 last month
New export orders 55.8 vs. 49.3 last month
Imports 50.8 vs. 46.3 last month
upplier deliveries 60.5 vs. 55.2 last month
Inventory change 45.8 vs. 52.0 last month
Inventory sentiment 52.5 vs. 50.0 last month
The deceleration in new orders stands out but that's still a solid level of growth. The area to watch is in jobs, which were below 50 for the sixth consecutive month. It's not a great sign for Friday's non-farm payrolls report.
Services PMI from Markit for Aug 2020
August services PMI 55.0 points vs 54.7 expected
Highest level since March 2019
Prelim services were 54.8 points
July services PMI was 50.0 points
Composite index 54.6 vs 54.7 prelim
New orders rose at the quickest pace in a year
This data adds a small upward bias to the ISM services index at the top of the hour. The consensus is 57.0. I suspect it would take a major miss to jar markets but watch the employment component for hints on what's coming in tomorrow's jobs report.
GBP/USD is testing the 200 daily SMA for the second time, which held for the second time last Friday
1 month ago