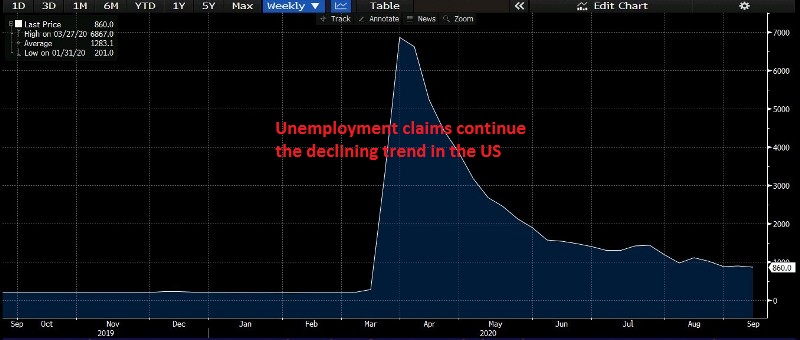 Unemployment Claims Cool Off Again in the US
Posted Thursday, September 17, 2020 by
Skerdian Meta
• 1 min read
Unemployment claims surged during lock-downs in the US, with the number of jobless people reaching 40 million at some point. Unemployment claims popped to around 6 million for two weeks and then remained in the millions for months, but they have been cooling off. Claims fell below 1 million in the last week of August and today's report showed another decline, but they missed expectations, coming at 860K, which is still a really high number.
US initial jobless claims and continuing claims
US initial jobless claims 860K vs. 850K estimated
Continuing claims 12,628K vs. 13,000K estimate
4 week moving average of initial claims 912K vs 973K last week
4 week moving average of continuing claims 13,489K vs 14,021.75K
The initial jobless claims data was a little worse than expected, but was still better than last weeks revised 893K (was 884K).  For the continuing claims, they were a stronger than expectations but still remains well elevated at 12.628M.  Nevertheless the trend remains the downside for that series.
August US housing starts data
August housing starts 1,416K vs 1,483K expected
July housing starts was 1,496K
Housing starts August -5.1%
Building permits August 1,470K vs 1,512K exp
Building permits July 1,483K
Building permits -0.9% MoM
This is a rare recent miss on US housing data, which has been red-hot for months. Yesterday's home builder sentiment survey blew away expectations and hit a record, so expect this is just a blip on the radar. With the Fed promising to keep rates at zero for years, the boom is still just getting underway. I'm not sure we're going to get back above 2 million in this cycle but low interest rates and a shift to suburban living are a powerful combination.