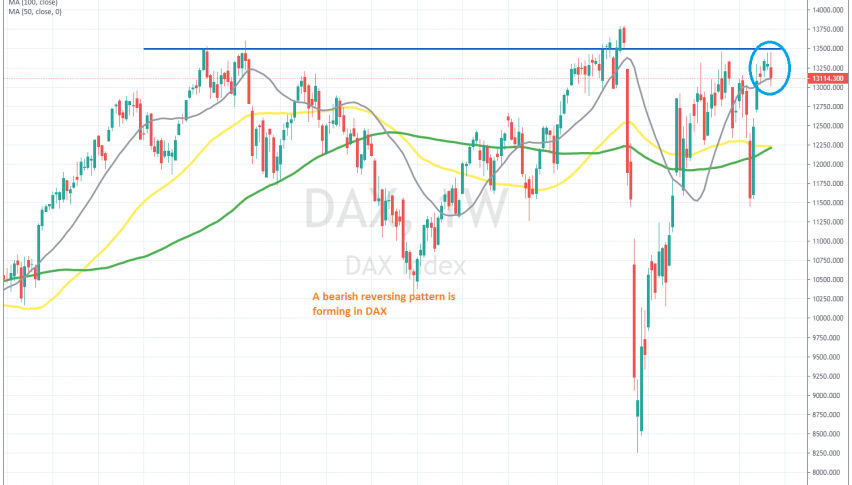 Will We See Another Tumble in Stock Markets on Harsher Covid Restrictions?
Stock markets used to be quite bullish during the last decade, climbing higher after the decline following the 2008 global financial crisis. Central banks across the globe employed really loose monetary policies to help their economies and tat kept stock markets bullish throughout the last decade. The start of the trade war between US and China weighted on stocks as well during 2018, but they reversed higher again in 2019, particularly in the last several months, as China and the US were heading towards the Phase One trade deal.
But, the coronavirus came this year and we witnessed a major pullback during February and March. Te German index DAX crashed down from 13,800s to 8,200s in about a week. That was one of the biggest crashes ever and it happened in a very short period of time. Whoever was long on stock markets in February should have taken a major blow to their account, unless they have plenty of funds, helping endure the losses during that time.
Although, stock markets started to reverse back up by the middle of March, after the central banks started to introduce some massive monetary stimulus packages, helped by governments as well on the fiscal front. Stock eventually turned quite bullish, after traders realized that the world wasn't going to end on coronavirus and most indexes climbed above February highs.
The German index Dax didn't make new high, stalling below 2017 highs. In October we saw another decline right before the US presidential elections, but in November the bullish trend resumed again. Although, the situation might have built up to another bearish reversal now, as politicians increase the coronavirus restrictions all across the West.
German news outlets are reporting that the federal and state governments have largely agreed on tougher restrictions and a harder lock-down, which should go into effect starting from Wednesday, 16 December next week. The measures should initially apply until 10 January, with an extension to be discussed on 5 January. The final decision will be made later this morning.
Some of the details from the report reveal that Germany will close retail shops barring essentials, schools are also to be closed or at least attendance be made non-mandatory, and there will be a ban on consumption of alcohol in public.
Again, this will have a negative impact on economic prospects and the overall outlook going into Q1 2021. However, the ECB has already responded accordingly with its "recalibration" measures all the way through to June 2022 at least.
The central bank measures may yet be enough to get the market to "ignore" the ongoing pessimism and keep with vaccine optimism. But just be mindful that the more negative news that we get in the meantime, it will slowly and surely add up. New York is about to have tougher restrictions too. The NY Gov. Cuomo has announced that starting Monday New York City indoor dining will close.  Outdoor dining and takeout will continue.  This is a blow to restaurant industry of course.
 London and other parts of the UK may have to go to Tier 3 restrictions as well, as a result of increasing Covid cases. All this is adding up for another bearish reversal in stock markets. Central banks and governments are a lot better prepared now than they were in February/March, but if the people get lock-downs again and businesses close, all the cash in the world won't reverse another economic meltdown, which will weight on stocks.
The technical picture also points to a possible bearish reversal. Dax has been finding resistance below the 2017 highs at 13,500s which has turned into a resistance zone. Last week's candlestick closed as a doji and this week's candlestick is bearish, which forms a bearish reversing chart pattern. Although, I am not too fond of going short now; I'd rather wait for the decline and then go long when it shows signs the decline is ending in stock markets, since the main trend is bullish.
We decided to sell Dax a while ago, as US and European services and manufacturing keep softening, falling into recession
8 months ago