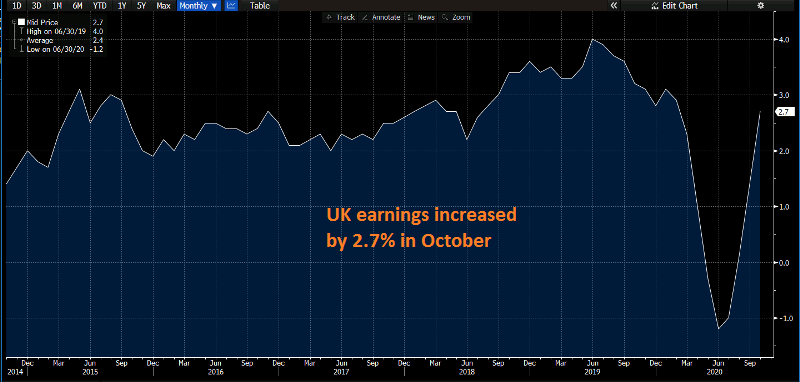 UK Earnings Jump Higher in October
Earnings have been holding up in the UK over the last two years, despite the global economy slowing down due to the trade war. Earnings remained upbeat at the beginning of this year as well, but they started weakening in March and eventually turned negative for several months after the lockdowns.
But, they reversed again and have been increasing in the last few months. Today's report showed a big jump in October, taking earnings close to pre-coronavirus levels. The GBP/USD is a bit higher now, but Brexit will keep driving this pair until the end of the year.
UK October average weekly earnings 2.7% vs 2.2% 3m/y expected
September earnings were +1.3%; revised to 1.4%
Average weekly earnings (ex bonus) 2.8% vs +2.6% 3m/y expected
Prior +1.9%
ILO unemployment rate 4.9% vs 5.1% expected
Prior unemployment rate 4.8%
Employment change -143k vs -250k expected
Prior employment change -58k
October jobless claims change 64.3k
Prior jobless claims change -29.8k
October claimant count rate 7.4%
Prior claimant count rate 7.3%
There was a slight delay in the release by the source. Jobless claims rose, but the drop in employment figures was better than the expected -250K. The furlough scheme has done its job and shielded the UK from larger job losses. Annual pay growth is adding to the recovery as more workers return to work post-furlough, but relative to historical levels, the readings are still  subdued. However, the jobless claims have risen and this will be a worry if it continues on the current trajectory.