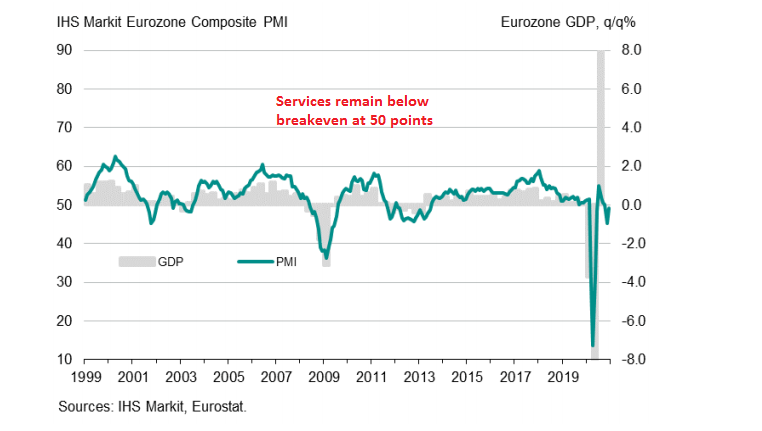 Services Revised Lower into Recession in Europe
Services fell into the deepest recession ever during the coronavirus lock-down months in spring last year. In summer, they bounced back up after the reopening, but fell into recession once again in Autumn in the Eurozone, as restrictions increased.
The UK followd suit, with this sector contracting a couple of months later. In December we saw a slight bounce in the first reading, as purchases increased before the holidays, but the coronavirus restrictions increased further just before Christmas, which hurt the service sector again, as we can see in the final estimates released today.  This is not a good sign, and with the plans to extend the lockdowns further, the situation will only get worse.
UK December Final Services PMI Report
December final services PMI 49.4 vs 49.9 prelim
Composite PMI 50.4 vs 50.7 prelim
A slight downward revision, as service activities are seen declining for the second month in a row, albeit marginally. That said, the data here doesn't hold much significance, as Q1 economic prospects have been dampened by the latest seven-week lockdown across the UK.
Markit notes:
"December data confirms that the UK service sector has swung back into decline after the partial rebound seen during the third quarter of 2020, largely reflecting tighter restrictions on consumer services amid the worsening trajectory of the pandemic.

"Shrinking demand resulted in additional price discounting to stimulate sales at the end of the year. Margins were also hit by a sharp and accelerated rise in operating expenses, which were linked to transport shortages and the pass through of higher freight costs by suppliers."

"With a third national lockdown underway, service providers will be braced for a sustained period of subdued UK economic conditions and deferred client spending in the first quarter of this year. However, business optimism on a 12-month horizon was relatively upbeat in December and reached its highest level in almost six years, underpinned by hopes that a successful vaccine roll-out will help to deliver a strong economic rebound in the second half of 2021."
Eurozone December Final Services PMI Report
December final services PMI 46.4 vs 47.3 prelim
Composite PMI 49.1 vs 49.8 prelim
The slight downwards revision comes amid some disappointment from Italy and a weaker revision to the German readings as well, but overall this still marks an improvement compared to November. This reaffirms that economic activity is seen contracting at just a marginal pace in December while business confidence is glowing amid vaccine optimism.
Markit notes:
"The eurozone economy contracted for a second successive month in December, deteriorating at a slightly faster rate than previously thought at the end of the year due to intensifying COVID-19 restrictions. Service sector activity in particular fell more sharply than estimated by the earlier 'flash' PMI estimate, as more countries stepped up their fights against rising virus case numbers.

"While the data indicate a renewed decline in eurozone GDP in the fourth quarter, the downturn appears to have been far less severe than seen in the second quarter, thanks to sustained strong manufacturing growth, rising global trade and lockdowns having been less onerous than earlier in the year.

"Worse may be yet to come before things get better, especially as the latest survey data were collected before the news of the new – more contagious – strain of the virus. Service sector activity in particular looks likely to remain constrained by severe social distancing in the early months of the new year. The risk of a technical recession, with GDP also falling in the first quarter has therefore risen.

"More encouragingly, businesses grew more optimistic about their situation in one year's time, reflecting the light at the end of the tunnel offered by vaccine developments. A recovery will hopefully be seen from the second quarter onward."
Eurozone services for July were revised higher today after the really weak numbers we saw in the first reading
2 weeks ago