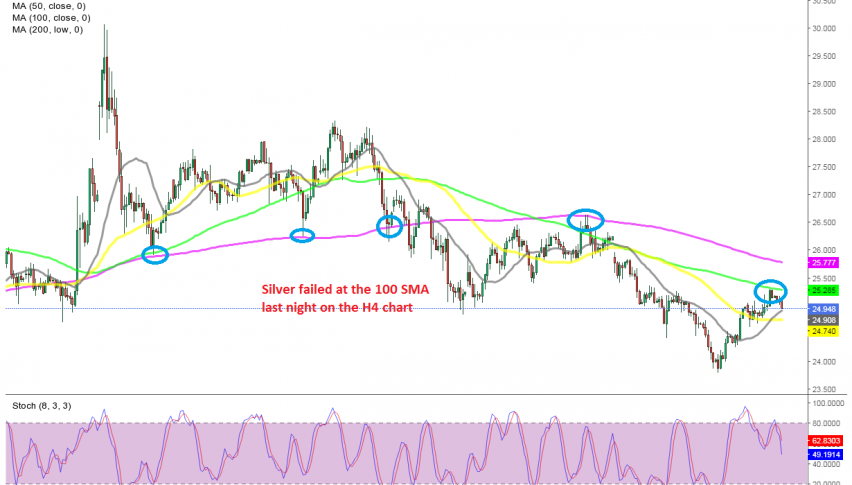 Silver Bearish Now, With MAs Turning Into Resistance
Silver had an impressive run in at the end of january, after the Reddit crowd of Wallstreetbets gave a buy signal here, following the short squeeze of the GameStop shares, which bankrupted Malvin Capital worth $8 billion. Silver surged from around $25 to above $30, flushing out some weak stops.
But, the price reversed back down in the beginning of January, losing most of the gains. Although, moving averages turned into support, particularly the 100 SMA (green) and the 200 SMA (purple), which kept Silver slightly bullish until the beginning of March.
Those moving averages were broken in March and the trend has turned bearish since then, with highs getting lower, as well as the lows moving lower too. Moving averages turned from support to resistance, first the 200 SMA and later the 100 SMA. In the last week or so, buyers tried to push XAG/USD higher, but the 100 SMA stopped the climb and now it seems like the price is turning lower after the rejection at that moving average.
This looks like a good selling opportunity, but we have a sell signal in GOLD , which follows a similar pattern to Silver, so we are holding on to that trade and are trying not to get too exposed. So, we are staying out of Silver, but that's a good trading opportunity for those who like to take it.