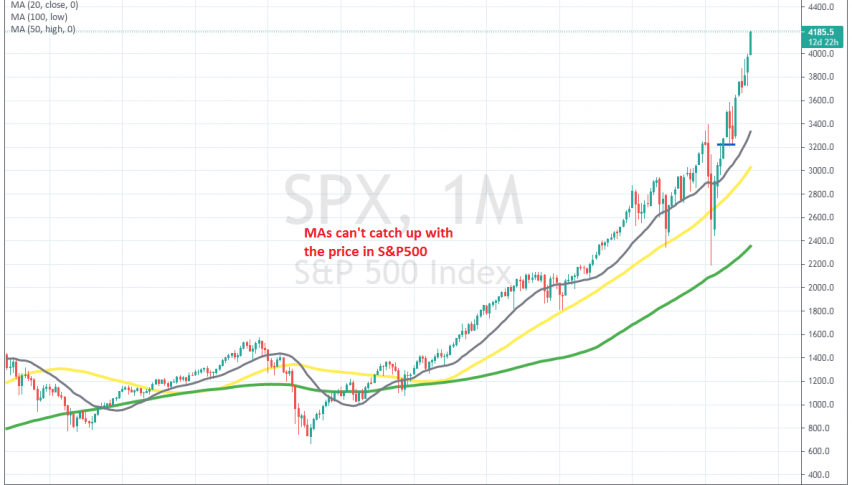 Stock Markets Set to Continue the Bullish Trend in 2021 and Beyond
Stock markets have been increasing since you can remember; in fact, one thing that is well known regarding them, is that stock are always bullish. The way experienced traders trade stock markets is "buy and hold".
We should always give the trade some room, in case the situation reverses suddenly, such as during the crash in  February and March last year, when coronavirus broke out in the West. Although, the pullbacks don't last long and the bullish trend always resumes after some time, pushing to new highs. So if you are long on stocks, it will pay off at some point.
Speaking of last year's crash, that was one of the biggest ones recorded in recent decades, together with the decline in early 2000s and in 2008 during the global financial crisis. But, it only lasted about a month and all stock markets turned bullish by the middle March.
Central banks and governments threw all they had and what they could borrow into respective economies, which helped the global economy bounce back and stock markets resume the long term bullish trend.
Technicals Show Increased Bullish Momentum
Now, all major stock indexes are higher then they were before the pandemic started, apart from the UK index FTSE 100. Considering the bullish trend of the last year, the technical analysis points up for all of them.
In fact, in recent months the trend had picked up pace further, as shown by the S&P500 chart above. Since november, this index has gained nearly 1,000 points, or about a third of its value, which is enormous for such a short period of time.
Fundamentals Are Also Extremely Bullish
Fundamentals also point higher, apart from any hick-ups which might come from possible spikes in covid cases. But, that it is pretty unlikely that any such pullbacks will last, since such spikes will only be regional.
Central banks and governments are keeping the cash flowing, with the next trillion dollar programme from the FED already in the process of being filtered into the markets. Such excessive amounts of cash are only going to fuel the bullish trend even further, as we have seen so far this year.
The global economy is expanding pretty fast, particularly manufacturing but recently services as well in the US and is picking up further pace as well. Europe is starting to reopen now, so services will surge in the block to, as well as travel.
This will only turn stock markets even more bullish, so the outlook for stocks is really positive. We will try to pick an entry point if we see a pullback lower, but we will have to switch tot he daily charts, because I don;t think that we will see a decent pullback on larger time-frames.