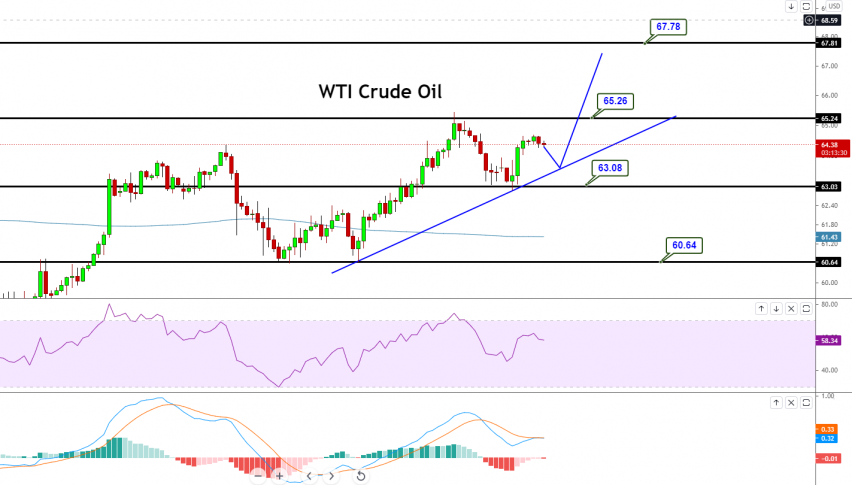 WTI Crude Oil Choppy Session Continues – Quick Fundamental Outlook!
Posted Tuesday, May 4, 2021 by
Arslan Butt
• 2 min read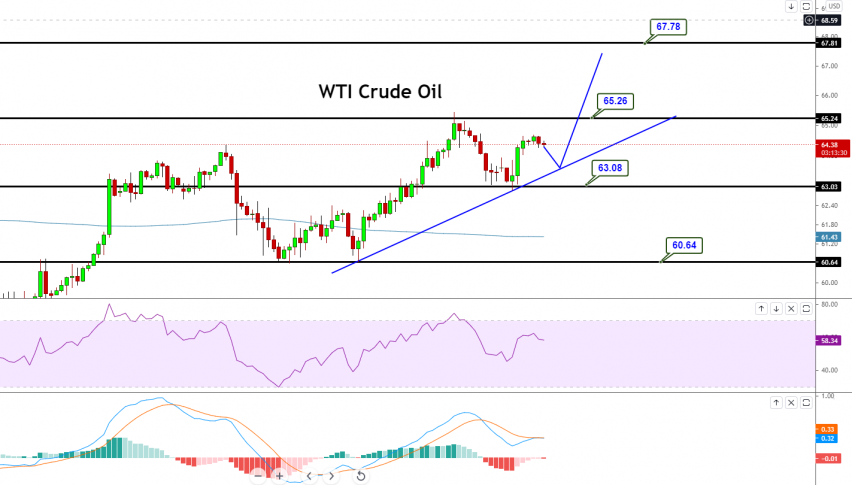 (%)

MARKETS TREND

The market trend factors in multiple indicators, including Simple Moving Average, Exponential Moving Average, Pivot Point, Bollinger Bands, Relative Strength Index, and Stochastic.


WTI Crude oil closed at $64.64 after placing a high of $64.72 and a low of $62.95. Crude oil posted gains on Monday amid the weakness in the U.S. dollar, and the European Union's plans to open its borders to vaccinated tourists. Europe's successful vaccination campaigns and the reduced number of new coronavirus cases pushed countries across the continent to reopen their economies. Greece has unveiled its plans to reopen outdoor service for restaurants and cafes on 3rd May. France has already started lifting restrictions on Monday by easing domestic travel restrictions and resuming high school classes. Denmark reopened bars, restaurants, cafes, libraries, and football stadiums last week. Belgium has announced plans to permit outside dining in restaurants and bars on 8th May. Many other European countries, including Italy, Netherlands, Poland, Portugal, and Spain, also showed a willingness to start easing restrictive measures.
On Monday, the European Commission said that it was planning to ease non-essential travel to the EU. The Commission said that the EU would allow entry for non-essential travel for anyone who has received the last dose of an EU-approved vaccine at least two weeks before arrival. This news added strength to WTI Crude Oil prices amid the renewed hopes of economic recovery and resumed economic activities.
Crude oil was also supported by the latest data published by Russia's Energy Ministry that suggested a 1.9% increase in oil production in April compared to the previous month. Russia produced 10.46 M BPD in April, which was almost twice the production done in February and March. This came in after OPEC+ relaxed its production cuts and has plans to continually increase its production by 2 million barrels daily between May and June. Another reason behind the rising crude oil prices on Monday was the weakness in the greenback. The U.S. Dollar Index that measures the dollar's value against the basket of six major currencies was down to 90.87 level on Monday amid the declining yields on benchmark U.S. Treasury yields. The 10-year Treasury yield fell below 1.60% to 1.57% on Monday and weighed on the U.S. dollar that pushed the Crude oil prices higher as they both are negatively correlated. On the data front, at 18:45 GMT, Final Manufacturing PMI from the U.S. remained flat with the forecasts of 60.5. At 19:00 GMT, the ISM Manufacturing PMI in April dropped to 60.7 against the estimated 65.0 and weighed on the U.S. dollar that added more gains Crude Oil. Construction Spending in March reduced to 0.2% against the anticipated 1.7% and weighed on the U.S. dollar and pushed crude oil higher. ISM Manufacturing Prices increased to 89.6 against the estimated 86.0 and supported the U.S. dollar that capped further upside in crude oil.

Crude Oil Daily Technical Levels
Support Resistance
63.48 65.25
62.33 65.87
61.71 67.02
Pivot Point: 64.10
WTI
crude oil continues trading sideways, holding a tight trading range of 65.42 – 63.08 level. The technical indicators suggest a mixed bias, as the
MACD and RSI are tossing above
and below mid-levels, suggesting neutral bias of indecision among investors. On the higher side, a bullish breakout of 65.26 levels can drive buying trends until 67 levels. At the same time, the violation of 63 support can lead the WTI price lower towards 62 and even 60. Let's keep an eye on 64 levels today, as selling can be seen below this, and buying above the same level. Good luck!
(%)

MARKETS TREND

The market trend factors in multiple indicators, including Simple Moving Average, Exponential Moving Average, Pivot Point, Bollinger Bands, Relative Strength Index, and Stochastic.


About the author
Arslan Butt
//
Index & Commodity Analyst
Arslan Butt is our Lead Commodities and Indices Analyst. Arslan is a professional market analyst and day trader. He holds an MBA in Behavioral Finance and is working towards his Ph.D. Before joining FX Leaders Arslan served as a senior analyst in a major brokerage firm. Arslan is also an experienced instructor and public speaker.