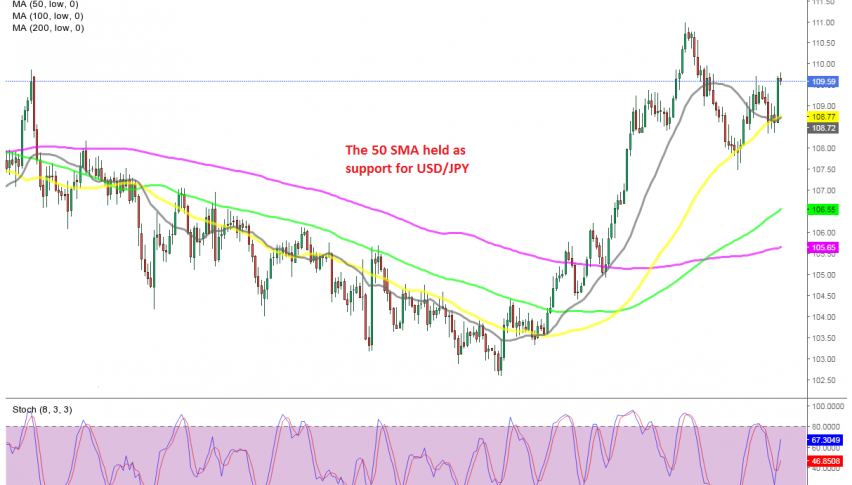 USD/JPY Jumps Higher After BOJ's Kuroda Pledges to Keep Pumping Up Cash
USD/JPY used to be bearish last year, s the USD was declining, although the JPY gained the least against the USD during that period, which was a sign that the trend would turn bullish once the USD decline stopped. That's exactly what happened, as this pair reversed from 1.02 lows and climbed to 111, making up for all last year's losses.
The Bank of Japan has a loose monetary policy like most major central banks, which is helping keep the JPY down, thus pushing USD/JPY higher. In April we saw a 350 pips retreat down, as the USD turned bearish again, but the 50 SMA held as support.
The price pierced below this moving average, but there was no break. USD/JPY started bouncing higher and the 50 SMA acted as support again earlier this week, where we decided to open a buy forex signal. That signal hit the take profit target today, after the Bank of japan governor Kuroda confirmed that they will keep the cash pumping up, as comments below show.
BOJ governor, Haruhiko Kuroda, speaks in parliament
BOJ does not have automatic, set rules when it comes to ETF purchases
There is no change to BOJ's stance to purchase ETFs when necessary
No intention to scale back on stimulus measures
Will not seek exit until it achieves inflation target
Well, investors counting on the BOJ to step in this week have been rather disappointed as the central bank has steered clear of any ETF purchases despite the near 5% drop in the Topix (Nikkei actually fell by nearly 7%) since Monday.
Sharp rise in US inflation partly due to base effects of last year's oil price drop
Closely watching US economic developments, inflation and its impact on Japan in guiding monetary policy
Base effects or not, the report yesterday was sizzling and is one point in the corner of inflation. The question now for the Fed is how many more readings like that can they keep passing on as "transitory"? That is something not even Kuroda can answer for now.