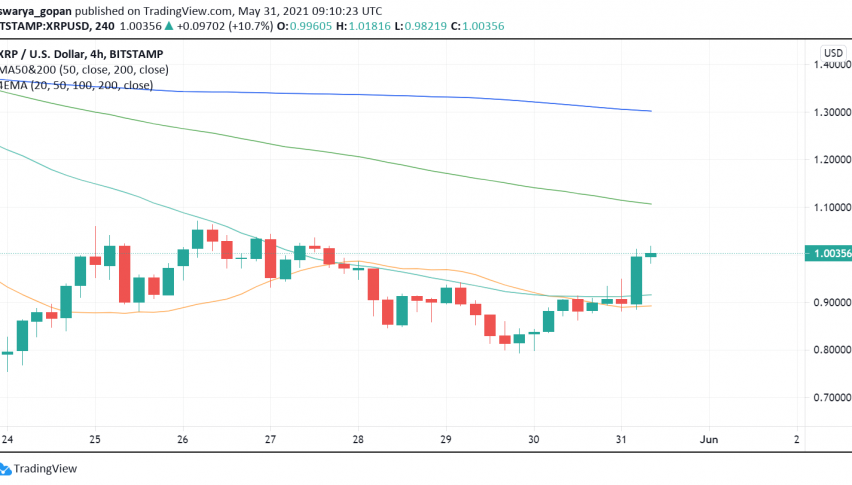 Ripple (XRP) Gets a Boost After Judge Denies SEC's Recent Motion
Ripple (XRP) is on a bull run in early trading on Monday as markets cheered a slight victory for the company behind the digital asset in its ongoing lawsuit with the SEC. Ripple has succeeded in preventing the Commission from gaining access to legal communications undertaken by the company.
The judge denied the motion filed by the SEC requesting access to " "all communications constituting, transmitting, or discussing any legal advice Ripple sought or received as to whether its offers and sales of XRP were or would be subject to federal securities laws". The SEC insisted on accessing this information as instrumental towards proving that Ripple was aware of XRP's status as a security and still went ahead with its sale.
At the time of writing, XRP/USD is trading just above $1.00, rallying by more than 14% over the past 24 hours. The rise above the key $1 level is likely to fuel further confidence in investors about trading this digital asset and could strengthen the uptrend further in the near-term.
There is much optimism in the air that the lawsuit could go in Ripple's favor, heralding a much needed relief for the overall crypto market as well. Investors are especially optimistic as after the lawsuit, the company has plans to go public, which would give XRP far more legitimacy and acceptance among investors going forward.
Key Levels to Watch
At the moment, XRP's price remains just above an important resistance level that sits at $1.03. However, on the 4-hour price chart, leading technical indicators and most of the smaller moving averages indicate a bullish bias, giving some hope that buyers would be able to break past this level easily.
In case this happens, we can see XRP/USD making a play for $1.10 and then attempt to rise above the $1.20 level as well in the immediate future. On the other hand, if this resistance holds, we could see the sentiment reverse and send Ripple all the way down to test the $0.90 level once again.