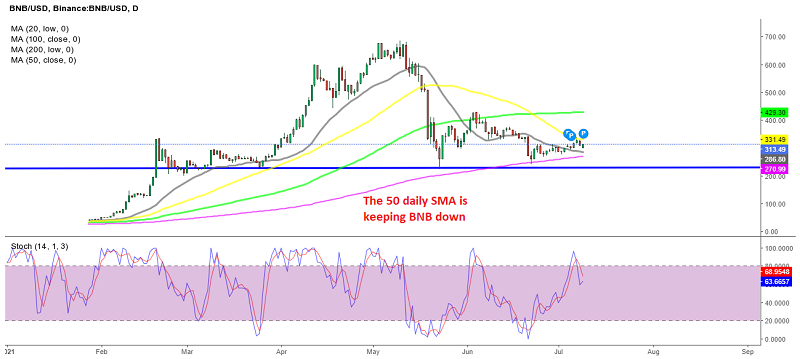 Binance Coin Wants to Resume the Bullish Trend, But MAs Keep Stopping It
Binance coin (BNB), the native token of Binance crypto exchange used to trade in a tight range, with the top at $40 until the beginning of February this year. That's when the surge in the crypto market caught up with this digital coin and BNB/USD surged to $685 according to my crypto broker.
Moving averages, particularly the 20 SMA (gray) were keeping it supported during the uptrend, as shown on the daily chart above. But, the reversal came and all moving averages were broken without much resistance. Only the 200 SMA (purple) which is the last one, held as support on the daily chart.
Binance Coin Live Chart
The decline stopped above this moving average during the first crash in May and the second bearish wave in June stopped right at the 200 SMA. That was higher than the previous low in June, while in most cryptos the second low was even lower. This shows that buyers are still strong in BNB/USD and will resume the uptrend once the sentiment improves in the crypto market. For now, the 50 daily SMA (yellow) is acting as resistance, but it might be broken to the upside soon, considering the price action.
The 20 SMA has turned into resistance for Binance coin on the weekly chart
On the weekly chart, the 20 SMA (gray) used to be support during the first crash, but it got broken on the second one and now this moving average has turned into support. Besides that, the February high of $340 is still acting as resistance t the moment.
So, buyers will have to push Binance coin above that level in order to resume the bullish trend. There was a lot of talk about Binance exchange being banned to operate in the UK, as part of the war on cryptos. But that did not have much effect on this crypto. That shows resilience again, so we expect Binance coin to turn bullish soon and break above the resistance obstacles above.