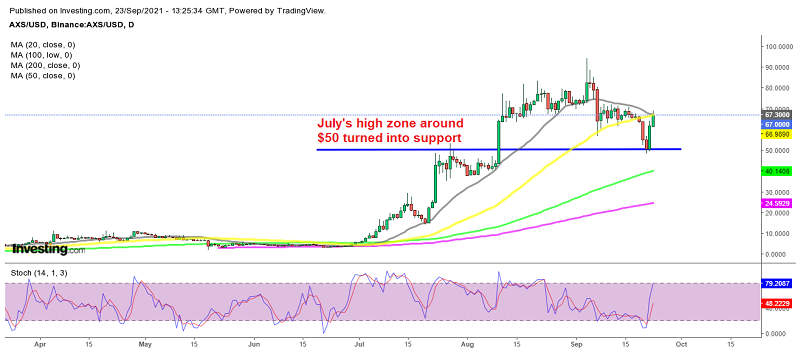 Axie Infinity and Algorand Coins the Most Bullish Cryptos Once Again
Posted Thursday, September 23, 2021 by
Skerdian Meta
• 2 min read
The Axie Infinity token was the only bullish cryptocurrency during July, while the crypto market was in the middle of one of the biggest bearish periods ever. That as when the popularity of the game surged back. The revenue from the Ethereum-based NFT (Non-Fungible Token) game increased by over $196 million that month, while in August we saw an 85% increase, meaning that the game registered $364 million in protocol revenue.
That provided support for AXS tokens, as the number of players grew exponentially. This crypto coin surged from around $4 to $94.50, until the first week of September. The crash in the crypto market caught up with Axie Infinity coin as well, initially sending the price to the 50 SMA, which held as support for more than a week, while the 20 SMA was acting as resistance on the daily chart. The second bearish leg took AXS down to around 50% of the value or the Fibonacci retracement level.
The price was bouncing between these two moving averages, which were tightening the range so much that the breakout took place, and the price fell to July's high. That resistance zone then turned into support for AXS/USD, and the price bounced strongly, increasing just above $70 a while ago.
So, Axie remains bullish and it is now trading right at the 20 SMA and the 50 SMA, both of which have provided support before. There is a decent chance that they might turn into resistance, which would reverse the price back down, but the market is slowly crawling further up today, so the chances of pushing higher from here are even stronger.
Algorand Analysis Daily Chart
Algorand coin has moved above the previous low, which didn't turn into resistance
The surge in Algorand coin came after the first leg of the flash crash in the crypto market, but the second leg of the decline had a greater effect, sending the price below the support zone at around $1.90. The 20 SMA was also pierced when the price fell to 1.53. But, it has reversed back up and has climbed above the previous support.
This means a 26% increase in two days from the low, so ALGO/USD is bullish again now and the stochastic indicator supports this idea, since it is oversold and reversing up now. We missed the chance to buy this cryptocurrency yesterday, but there will be other trade opportunities.