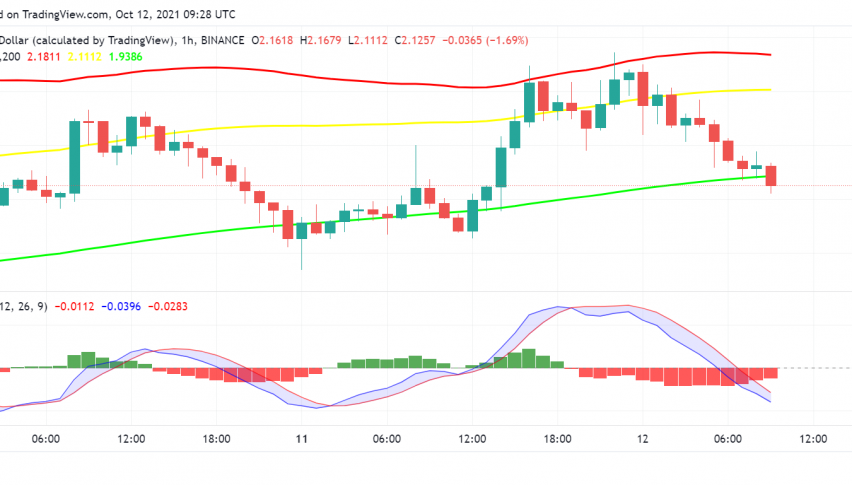 Will Aave Enter The Fantom (FTM) Ecosystem Soon?
While most of the altcoins trade in the red on Tuesday, Fantom (FTM) bucks the trend and extends its rally after posting a weekly gain of nearly 50% on the back of surging adoption of its ecosystem among projects and users. At the time of writing, FTM/USD is trading at around $2.12.
Will Aave Expand Into Fantom's Ecosystem?
The 35th largest cryptocurrency by market cap has been trending higher since the previous session after leading DeFi protocol Aave unveiled a governance proposal to expand its offerings into the Fantom blockchain. Aave v2, as the proposal is titled, is looking to see is users would be interested in expanding the lending platform to Fantom's uers as its blockchain can support the project's goals of realizing multichain operations.
Aave has seen stellar growth on the Avalanche blockchain network in recent weeks, making the most of its liquidity mining program Avalanche Rush. It may be looking to recreate this success with another network after the Fantom Foundation launched an incentive program valued at 370 million FTM, which it could make use of as it expands into this space.
There's no doubt that DeFi has been one of the biggest drivers of growth the crypto market has been witnessing over the past few weeks. As opposed to the bull run from earlier this year which was powered by a rally in market leader Bitcoin which took it to ATHs, DeFi projects offer an extremely interesting use case of this technology and have been instrumental in driving up on-chain activities on several leading blockchain networks, including Fantom.
Other Fundamentals Support FTM
The next step in the future will be decided on the basis of interoperability among the various blockchain networks that exist and are constantly being added. According to a recent report by Dune Analytics, one such feature – the Anyswap Bridge that allows for cross-chain transactions has the highest TVL. Fantom's Anyswap Bridge is the second largest cross-bridge in the crypto space, accounting for a TVL of $4.2 billion – a sign of increased interest in driving cross-chain interoperability between Fantom and other blockchains.
Another interesting development that can lend support to the FTM token is the expansion of Singular.Farm – a leading multi-chain yield farm operating on Polygon, Binance Smart Chain and Avalanche, expanding into the Fantom ecosystem. Yield farmers of FTM's network will now have access to two of its DEXs – Spookyswap and Jetfuelfinance, offering high levels of liquidity and rewards to their users.
Key Levels to Watch
Technical analysis of the H4 price chart of FTM/USD reveals a bullish bias among the larger moving averages and the momentum indicator. However, the smaller timeframe MAs along with the MACD point to some interest among sellers as well.
Fantom's price is sitting above the pivot point at $1.92 and buyers can smoothly take it higher until they encounter resistance at $2.55. Although, we need to keep a close watch on the price action as an entry of more sellers into the market can reverse FTM's gains and see it head lower.
Cryptocurrencies were showing strong bullish pressure in the first two months of 2023, but the bullish momentum has faded
2 weeks ago