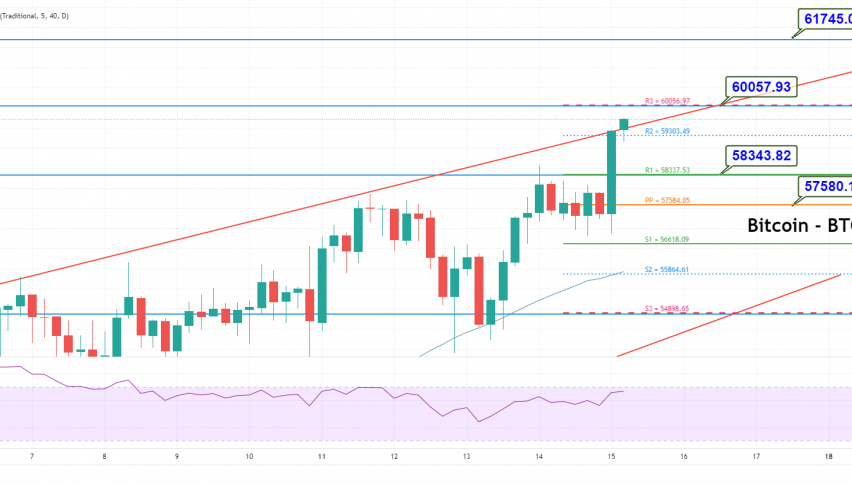 Bitcoin Skyrockets to $59,700 (+4%): Brace for $62,000 Target
Posted Friday, October 15, 2021 by
Arslan Butt
• 3 min read
During the late Asian session, the BTC/USD has skyrocketed to $59,700, adding +4% so far
Strike's Lightning Network payments platform has announced a new feature named "Pay Me In Bitcoin"
Bitcoin could continue with a bullish basis until the $60,057 level, and a breakout at this level could drive further bullish action in the market
During the late Asian session, the BTC/USD skyrocketed to $59,700, which means a plus of 4% so far. On Thursday, the BTC/USD ended the day at $58,473.0, with a high of $58,473.0 and a low of $56,880. The BTC/USD remained flat throughout Thursday's trading, amid mixed developments surrounding the bitcoin ecosystem.
Billionaire Barry Sterlicht claims that he holds Bitcoin
The legendary investor and billionaire, Barry Sterlicht, claims that he has BTC and ETH. Sterlicht has an approximate net worth of $4 billion, and he is the founder of Starwood Capital Group, which has about $60 billion in assets under management.
Sterlicht said that the concerns about central banks and their monetary policies, which could be creating inflation for their currencies, prompted him to diversify his portfolio into BTC and ETH, as a hedge against this phenomenon. He said that gold, which is one of the most commonly used assets as a store of value, is worthless. He claimed that gold and silver merely have some industrial uses, while Bitcoin is the store of value, rahter than gold.
Strike's Lightning Network announces
"Pay Me In Bitcoin" 
Strike's Lightning Network payments platform has announced a new feature, by the name of "Pay Me In Bitcoin". The feature allows users to programmatically convert a portion of their income into Bitcoin in the app, via their bank account and routing numbers. All Strike account holders can enjoy the benefits of this service by directly depositing money into their account and instantly converting it into Bitcoin without any fees.
Meanwhile, MintGreen, a Canadian cleantech cryptocurrency miner, has announced a cooperation with the Lonsdale Energy Corporation, to provide heat to residents in North Vancouver and British Columbia, beginning in 2022. According to the release, MintGreen's digital boilers, which it says can recover more than 96 percent of the electricity needed for Bitcoin mining, will save 20,000 metric tons of greenhouse pollutants per megawatt, in line with the agreement with North Vancouver. The recovered energy is expected to heat 100 residential and commercial buildings in the Canadian city, which has a population of roughly 155,000.
CEO of Morgan Stanley, Stance on Bitcoin
The CEO of the global investment bank, Morgan Stanley, says that cryptocurrencies, including Bitcoin, are not a fad. He says that they will not go away and that he is waiting to see how regulators will handle them. The above developments helped bitcoin secure some gains during the trading session on Thursday, but the cryptocurrency remained flat, as the gains turned downside due to negative developments.
On the flip side, the President of Mexico, Andres Manuel Lopez Obrador, has said that the country is unlikely to follow in El Salvador's footsteps by adopting cryptocurrencies like Bitcoin as legal tender, alongside fiat currency. On Thursday, Obrador said that Mexico must maintain its orthodox stance in financial management, and not change its position on crypto.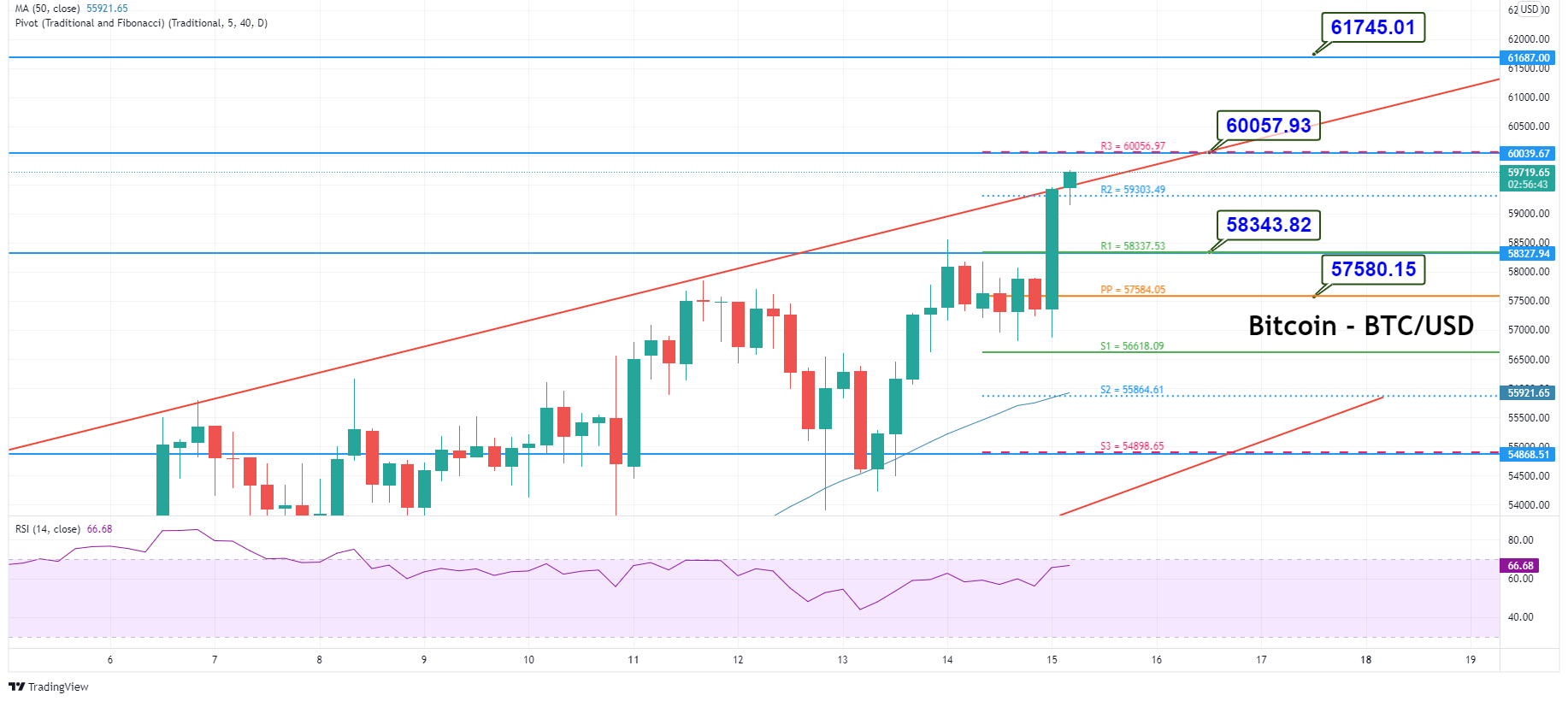 BTC/USD skyrockets to $59,700 – Is it going after $62,000?
Bitcoin is on a bullish run, having soared by 4% during the Asian session, to trade just below the $60,000 psychological level. On the higher side, Bitcoin is likely to find major resistance at $60,000. A bullish breakout above the $60,000 level could lead the Bitcoin price towards the next resistance levels of $61,745 and $62,010, respectively.  
On the 4 hour timeframe, the BTC/USD has closed a bullish engulfing candle that is demonstrating a strong bullish bias in the market. Bitcoin's immediate support prevails at 59,303 and 58,337, while resistance can be found around the $60,057 and $61,745. 
On Friday, Bitcoin could continue on a bullish basis until the $60,057 level, and a breakout at this level could drive further bulls in the market. Good luck!