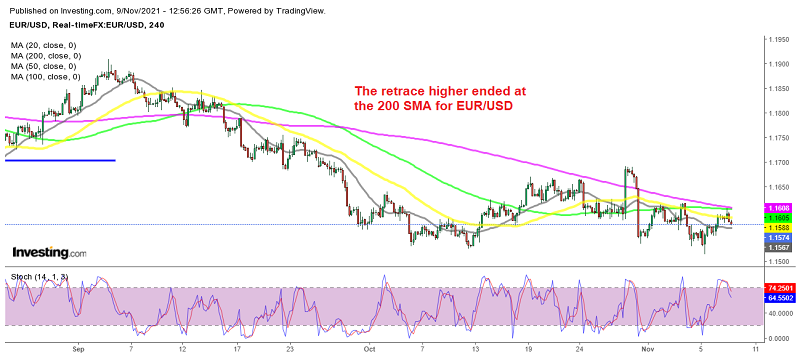 Booking Profit on EUR/USD Signal, Despite the Improved Economic Sentiment
Posted Wednesday, November 10, 2021 by
Skerdian Meta
• 1 min read
EUR/USD was trading at 1.2250s at the end of May, but it started to turn bearish back then and has lost around 7 cents since the summer started. In August we saw a retrace higher but the bearish trend resumed again and this pair continues to remain bearish.
Sellers continue to remain in charge, selling EUR/USD after every pullback higher as we did earlier. We decided to open a sell forex signal yesterday at the 200 SMA (purple), which acted as resistance and today the price reversed down, hitting the take profit target. The decline resumed today, even after the improvement in the Eurozone and German ZEW economic sentiment this month, despite the rise in coronavirus cases as we have heard. So, this means that we won't see further restrictions in Europe this winter perhaps.
ZEW Economic Sentiment – November 2021
November ZEW survey current conditions 12.5 points vs 18.0 expected
October current conditions were 21.6 points
Outlook 31.7 points 20.0 expected
October outlook was 22.3 points
Eurozone Figures 
November ZEW outlook 25.9 points 20.6 expected
October outlook was 21.0  points
That's a notable drop in the headline reading as present economic conditions are weighed down by ongoing supply and capacity constraints. Rising inflation pressures and the latest virus trend isn't helping in that regard as well. As for the improvement to the outlook, ZEW notes that market experts are more optimistic about things in the next six months – expecting growth to pick up again and inflation to fall in both Germany and across the Eurozone.
EUR/USD Live CHart