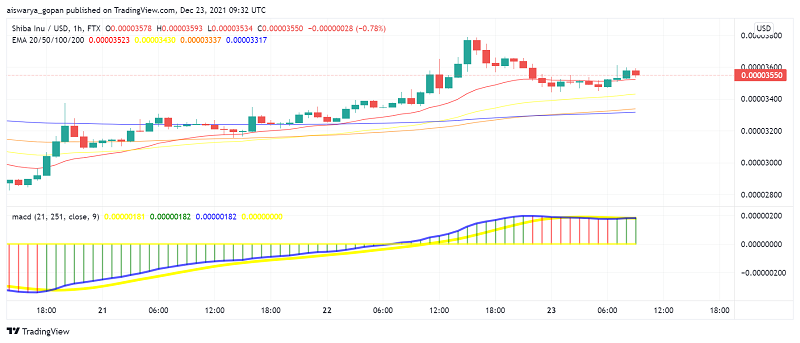 Shiba Inu (SHIB) Continues Its Ascent. What's Happening?
Shiba Inu (SHIB) extends its gains into early trading on Thursday, powered by the rising interest in the memecoin by traders and users worldwide, getting listed on more platforms and enjoying rising adoption as a payment method lately. At the time of writing, SHIB/USD is trading at around $0.000035.
One of the biggest developments supporting the latest rally in SHIB is increased buying activity among whales or large holders in recent weeks. Yesterday, we told you about an ETH whale adding 4 trillion SHIB to their holdings at a whopping $136 million. This massive buying spree helped support the Shiba Inu price and sent it soaring on Wednesday. In the past one week alone, large holders have accumulated around $200 million worth of the meme token, as per WhaleStats' analysis.
But it's not just whale activity that is supporting the uptick in the second largest memecoin in recent sessions. The Shiba Inu coin is also making the most of an improvement in the market sentiment after El Salvador added 21 Bitcoins more to its crypto treasury, boosting investors' mood towards digital assets.
In terms of fundamentals, Shiba Inu is also enjoying more attention among traders after North Carolina's professional ice hockey team Caroline Hurricanes confirmed that they will accept payments in SHIB on their e-commerce platform. The team has partnered with BitPay to allow its fans to purchase merchandise using what they term the best performing cryptocurrency of 2021.
Another significant development that can drive up the value of the memecoin is an update from a whale and owner of crypto record label Bigger Entertainment, Steven Cooper, who tweeted that his team is planning to burn 176 million SHIB tokens at the "burn party" after Christmas. Bigger Entertainment was one of the first brands to recognize Shiba Inu as a payment option, adding that the burn of many coins all at once can save high gas fees on Ethereum instead of performing separate burns of the coin. The burn activity can reduce the supply of SHIB coins and the deflationary pressure can increase the value of the remaining tokens in the market.
SHIB/USD Technical Analysis
Taking a look at the H4 price chart of SHIB/USD, we find a bullish bias among most of the moving averages and the MACD. Although, the 200 EMA and the momentum indicator point to some interest among sellers.
Shiba Inu's price has crossed the pivot point at $0.000032 and is sitting just above the pivot point at $0.000035. Let's see if this level holds as an uptick in buying pressure from here can see SHIB testing the second resistance at $0.000039 and then breaking past the key $0.000040 level.