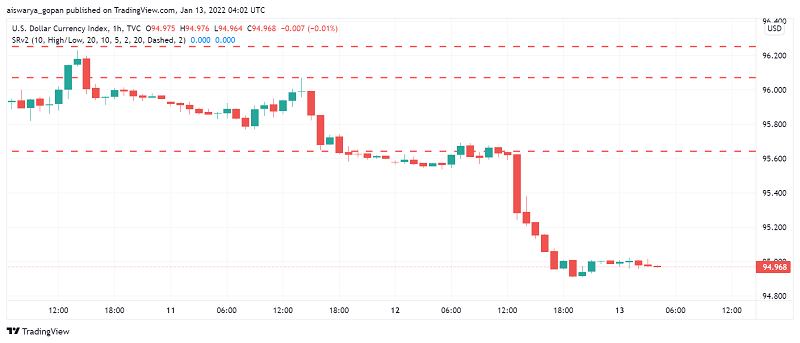 US Dollar Dips After Inflation Fails to Offer a Positive Surprise to Markets
The US dollar continues its slide lower against other major currencies into Thursday after the release of the CPI report in the previous session even though the figures did come in strong and support expectations for a faster rate hike by the Fed this year. At the time of writing, the US dollar index DXY is trading at around 94.96.
Data released on Wednesday indicated that US consumer prices rose at 7% YoY in the 12 months till December, in line with economists' forecast and reaching the highest levels seen since June 1982. Meanwhile, on a monthly basis, CPI was up by 0.5% MoM in December, the pace of increase slowing down since November's reading of 0.8% but slightly higher than economists' expectations for a reading of 0.4% instead.
Although these figures are good enough to support the possibility that the Fed could announce a rate hike soon, traders were disappointed that the annual inflation reading did not come in stronger than forecast. A higher reading would have increased bets for a Fed rate hike by as soon as March.
The weakness in the US dollar has helped commodity currencies AUD and NZD post gains in the Asian session. In overnight trading, AUD/USD surged by 1% and continued weakness in the greenback could see the currency pair break above the $0.73 level in the near term.
Meanwhile, NZD/USD strengthened by 0.9% in overnight trading and touched the highest level seen in five weeks, only to dip slightly lower since then. The next key hurdle this forex pair needs to overcome is at $0.6867.