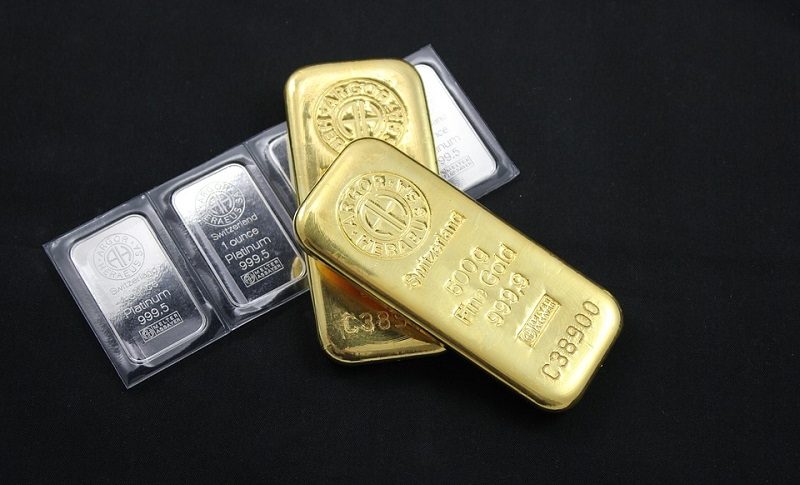 Waiting to Buy Gold (XAU) and Silver (XAG), as Ukraine Tensions Persist
Safe havens have been trading in a range since the beginning of summer last year, after the FED decided to consider causing inflation to surge considerably, which meant that they were going to start tightening the monetary policy. High inflation sends investors away from traditional assets and into safe havens, since they at least keep their value, unlike other forms of cash.
Gold H4 Chart – The 20 SMA Acting as Support
As a result, GOLD and silver started to turn bullish back then, and continue the upward momentum. The bullish momentum has increased this month, in particular, because the tensions in Ukraine are still keeping the situation tense. XAU/USD was trading at around $1,780 at the end of January, when it started this strong bullish move, which pushed the price up to $1,910 earlier today. During this time, the 20 SMA (gray) has been acting as the ultimate support indicator, holding the price during pullbacks, so we are thinking about buying gold down there, if the downward retrace of the last few hours continues.
We're waiting to buy gold if the 20 SMA holds again    
Silver H4 Chart – The 50 SMA Acting as Support for Gold
SILVER has also turned bullish since the beginning of this month, as geopolitical friction keeps tensions high, which increases the demand for safe havens. But, the uptrend in XAG/USD seems slower than in gold, since the 50 SMA is providing support on the H4 chart here. But, the bullish pressure is consistent, so we decided to put a buy pending order just above that moving average, hoping to get a trade as the price retraces lower. The services reports from Europe this morning were positive, as shown below, but the main driver of markets right now is the tension in Ukraine.
Eurozone Flash Services PMI Report for February
February flash services PMI 55.8 points vs 51.7 expected
January services were 51.1 points
Manufacturing PMI 58.4 points vs 58.7 expected
Prior 58.7 points
Composite PMI 55.8 vs 52.7 expected
Prior 52.3 points
Much like the French and German readings earlier, this report is a solid one, as activities in the services branch rebound strongly, and overall economic activity grows at its fastest pace in five months. Evidently, the omicron impact is short-lived, and we are seeing business conditions starting to bounce back. However, supply chain issues are proving persistent, and that is still feeding into high cost pressures, which remain a problem for the region. Markit notes that:
"The Eurozone economy regained momentum in February, as an easing of virus-fighting restrictions led to renewed demand for many consumer services, such as travel, tourism and recreation, and helped alleviate supply bottlenecks. Business optimism in the outlook has likewise improved, as companies look to the further reopening of the economy, encouraging increased hiring.
Eurozone Services Rebounding, as Omicron Wears Off
The services activity readings for the French, German and overall Eurozone reports were all solid. They signify a solid rebound in February, as the impact of the spread of the omicron variant begins to subside. If anything, that just reaffirms that any dent to economic conditions and an optimistic outlook is only short-lived. That bodes well for how the trend should look in the months ahead, but perhaps, with one caveat.
 [[XAU-graph]]