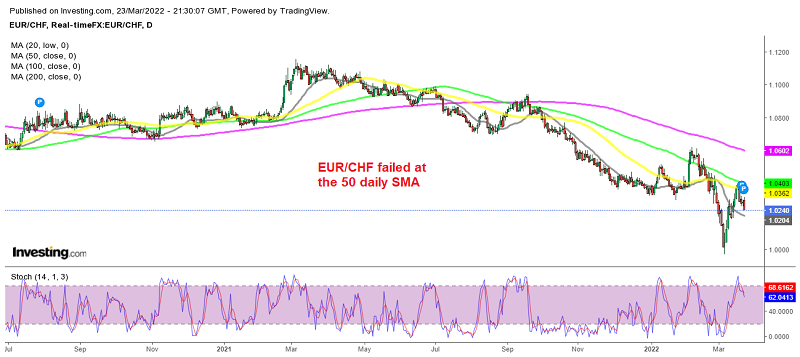 EUR/CHF Reversing Lower Again Toward Parity at 1, Despite SNB Intervention
The Swiss Franc has enjoyed some bullish times in recent months, as the sentiment turned negative due to geopolitical tensions and economic difficulties, which sent prices up. The JPY has been declining during this time, but the CHF has been progressing, especially against the Euro, which turned particularly bearish earlier this month, due to the conflict in Ukraine.
EUR/CHF has declined from 1.1150 to 0.9975, where it dipped to earlier this month, before the Swiss National Bank (SNB) decided to intervene and sell CHF 21.1 billion earlier this week. But, that didn't help the CHF much, and this pair has reversed lower again, heading towards parity.
Monetary Policy Decision by the SNB – March 24, 2022
SNB leaves the policy rate unchanged at -0.75%, as expected
Prior meeting rates were -0.75%
Sight deposit interest rate unchanged at -0.75%
Swiss Franc remains highly valued
Will remain active in foreign exchange market, as necessary
Remains ready for FX intervention if necessary
Anticipates global economic recovery will continue overall, despite the war in Ukraine
Sees 2022 inflation at 2.1% (previously 1.0%)
Sees 2023 inflation at 0.9% (previously 0.6%)
So, there was no change whatsoever by the SNB, as you would expect. Despite seeing inflation at just above 2% for the year, it isn't going to do anything to change its policy stance. The central bank reaffirms that risks to growth are considerable and to the downside, adding to the lower inflation forecast for 2023; hence, their outlook doesn't factor in any tightening of policy. The SNB's Jordan said that they can't give a pain threshold for the Swiss Franc exchange rate. Considering the bounce in EUR/CHF, from parity at the start of the month, one can at least take a good guess as to where their current threshold is. But of course, it will also depend on the how the economic and trading sentiment evolves.