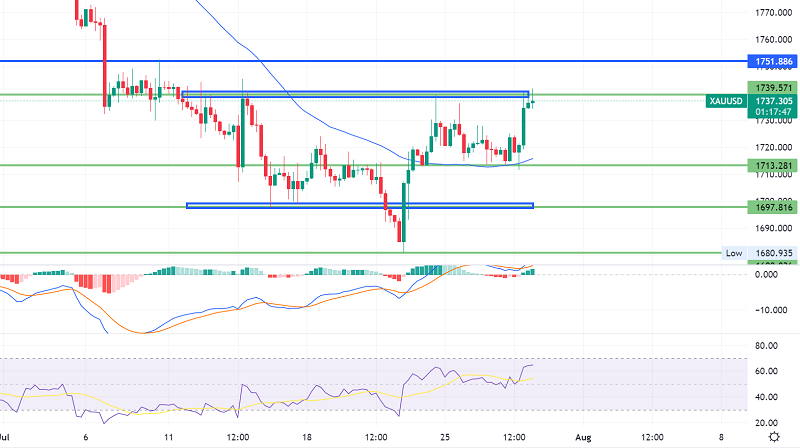 Gold on a Bullish Run – US Fed Rate Hike in Play
The gold market is fading the Fed-inspired surge, swinging around $1,735 throughout Thursday's Asian session. Nonetheless, gold prices rose the most in a week, reviving a fortnight high on the US Federal Reserve's (Fed) showdown. However, fears of an economic slowdown and market worry before major US data appear to be testing the XAU/USD bulls recently.
Despite its recent decline, the US Treasury yield curve continues to suggest recession fears and weigh on the GOLD market. According to Reuters, the US government bond market is delivering new indications indicating that investors are increasingly confident that the Federal Reserve's strong tactics to combat inflation will lead to a recession. "Some of those swings reversed slightly on Wednesday, with rates at the short end of the curve swinging lower in anticipation of the Fed continuing with super-sized hikes," Reuters notes.
It should be mentioned that after the Fed's 0.75 percent rate hike, US 10-year Treasury rates fell nearly four basis points (bps) to 2.78 percent, while 2-year bond coupons fell 2.58 percent to 2.98 percent. Nonetheless, the spread between key US bond coupons is the biggest since 2000, indicating the severity of the US recession.
Furthermore, gold buyers appear to be challenged by the market's cautious tone ahead of the virtual meetings between US President Joe Biden and his Chinese counterpart Xi Jinping. In the same vein, there is concern over the flash readings of the US Q2 Gross Domestic Product (GDP) Annualized, estimated to be 0.4 percent vs. -1.6 percent previously.
Gold (XAU/USD) Technical Outlook
Gold price traded positively to approach key resistance of $1,726.60, representing one of the following trend keys, along with 1,712.00 support. As we mentioned this morning, the price must clear one of these levels to determine its next destination.
As a result, we will maintain our neutrality, for the time being, noting that the details of the expected targets following the breach are explained in our morning report.
Today's trading range is expected between $1,695.00 support and $1,735.00 resistance. A break above the 1735 level can expose gold price to $1,753.
The expected trend for today: Neutral