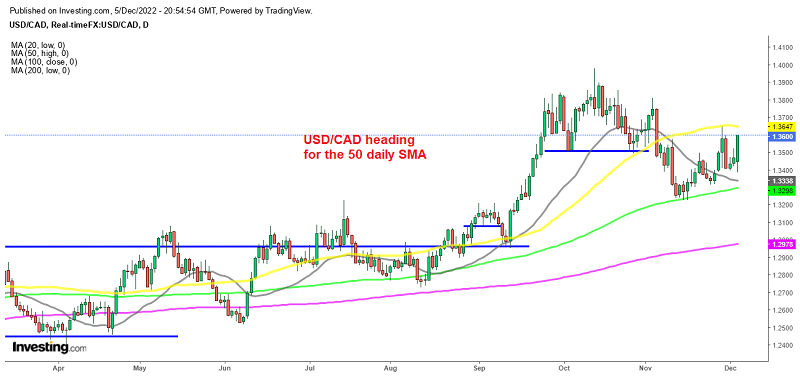 USD/CAD Heads for the 50 Daily SMA As Oil Crashes Below $77
Yesterday we saw a brutal reversal in most risk assets, including crude Oil which was trading close to $83 in the European session, but made a turnaround and fell below $77 by the evening. The improvement in the US ISM services increased the odds of the FED continuing a bit longer with rate hikes, which helped the USD on one hand, while turning the risk sentiment negative in financial markets, which sent risk assets lower.
The CAD got hit by the sudden USD strength and the crash in crude Oil. The first leg of USD/CAD strength yesterday came right after the strong ISM report was released, which boosted the US dollar across the board. Then came the second leg as Oil prices give back gains made earlier.
The fall in Oil prices along with an 8% decline in natural gas on better weather forecasts hurt the loonie and boosted USD/CAD to a two-day high oabove 1.36. This is a big week for Canada with the Bank of Canada decision on Wednesday. The market is pricing in a 69% chance for a 25 bps rte hike with the remainder at 75 bps. Friday's jobs report from Canada was strong once again but the BOC has signaled that it wants to slow down.
CIBC warned yesterday that the decision and speech the day afterward is a minefield for traders on what could ultimately be a trivial difference between 50 bps now and a pause or back-to-back 25 bps hikes. SO, the CAD is feeling the pressure and USD/CAD reached 1.36 yesterday as the upside momentum continued until the end of the day. Below is the CIBC comment:
"For traders putting on short-term positions, however, the difference would be material, a reason why we wouldn't put big bets on which cola Macklem reaches for. Of late, we've seen some significant market reactions to what sounded like trivial differences in the words chosen by central bankers. Just this past week, the market found some reason to react to a speech by Powell that was really a retread of things he'd already said. With BoC Deputy Governor Kozicki scheduled to speak on Thursday we could see the market tilt one way on
the announcement, only to be jarred back the other way if her remarks attempt to correct its interpretation."