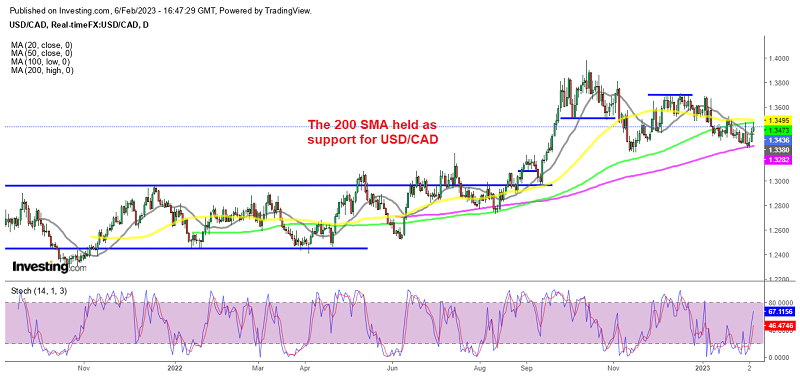 Bullish Reversing Signs in USD/CAD, BOC Sees Rate Cuts in Late 2023
USD/CAD has been on a downtrend since the middle of October, as the USD started to retreat on a softening FED talk, after a really strong year. Asa result, highs have been getting lower on the daily chart, but this pair has formed a support zone where the previous resistance used to be, just above 1.32.
Last month we saw another attempt by the sellers as the USD decline resumed. But, while the USD made new lows against other main currencies, the decline in USD/CAD stopped short and we saw a reversal last week above the November lows. That was a bullish sign for this pair and now this pair is around 200 pips above the previous lows.
Now buyers are facing two moving averages bove on the H4 chart. The Bank of Canada is also slowing with rate hikes, which will start weighing in on the CAD, besides the decline in crude Oil. The BOC sees negative GDP growth in 2023, while they are also mentioning rate cuts, which should keep the CAD bearish and this pair bullish.
Bank of Canada Q4 Survey of Market Participants
BOC survey sees negative GDP growth in 2023 with rates falling 50 bps by year-end
Median GDP for 2023 at -0.4%
GDP of +2.0% in 2024
Accumulated savings and commodity prices are main upside risks
Weaker housing and tightening financial conditions are main downside risks
Median CPI forecast of 2.9% this year and 2.2% in 2024
Median response for year-end BOC overnight rate is 4.00% (currently at 4.50%)
Median response for Q4 2024 is 3.00%
CAD/USD seen at 0.74 at year-end (1.35)
WTI crude oil seen at $85 at year-end
The Bank of Canada does a quarterly survey of market participants and this offers a decent look at where the consensus is.