Gold's Dwindling Momentum: A Dive into XAU/USD's Protracted Decline
Posted Tuesday, October 3, 2023 by
Arslan Butt
• 2 min read
Gold's value (XAU/USD) consistently extends its prevailing decline for the seventh consecutive day, plummeting to the $1,820 zone – a mark not seen since March 9, during Tuesday's Asian trading session.
Driving this trend is the Federal Reserve's consistent narrative of maintaining elevated interest rates. As a consequence, the US Treasury bond yields soar to unprecedented multi-decade peaks, fortifying the US Dollar (USD). This bolstered dollar strength inversely impacts the GOLD price. Market participants appear increasingly confident about the Federal Reserve adhering to its assertive monetary policy, with anticipations of an additional rate increase by the year's end gaining traction.
This sentiment received further validation from Cleveland Fed's Loretta Mester. Her remarks on persistent inflationary pressures indicate a need for a more stringent rate regime to achieve the 2% inflation target. This statement underscores the Fed's commitment to intensifying its monetary strategy, a move likely diverting investments away from the non-interest-bearing Gold.
Interestingly, this persistent GOLD downturn seems immune to the typically supportive weaker risk ambiance, which traditionally elevates gold's allure as a haven asset. Initial market reactions to the varied Chinese PMIs and the recent passage of a US interim funding bill appeared ephemeral. Mounting concerns of an intensified economic slump barely offer any solace to Gold's dwindling position.
Nevertheless, a key technical observation is the overextended bearishness on the daily chart's Relative Strength Index (RSI), suggesting potential saturation in selling pressure. Yet, given the fundamental scenario, the path of least resistance for Gold remains downwards. Any upticks might be perceived more as opportunities to sell rather than genuine reversals.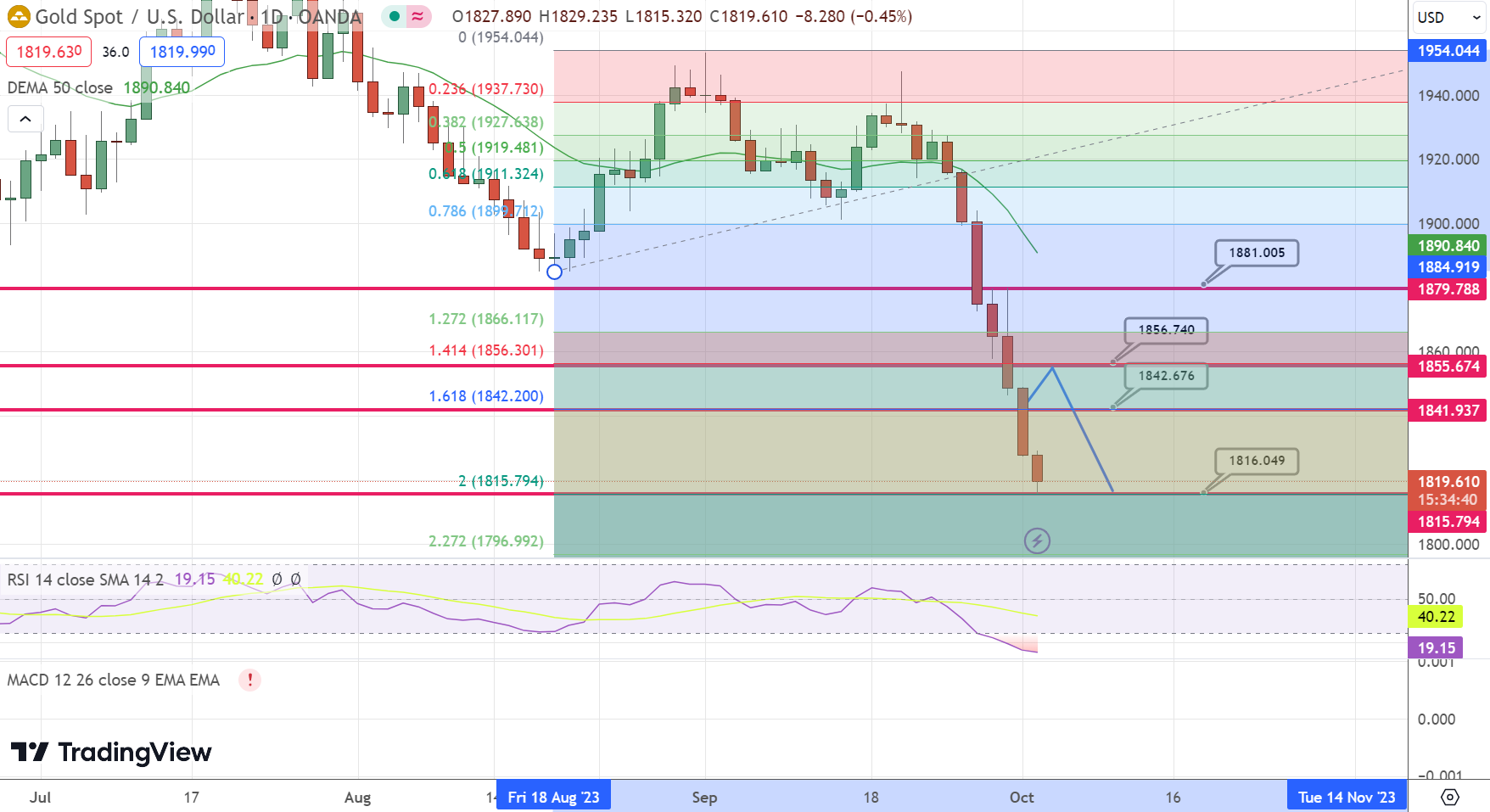 Gold's Technical Landscape
Gold commenced the week with a distinct bearish bent, shedding 1% from its opening near $1,830.00. Notably, XAU/USD displayed no signs of recuperation post its stark Friday slump from $1,880.00.
Recent technical assessments paint a gloomy picture for GOLD . Daily evaluations indicate alarming bearishness, with the RSI plunging to its most depressed level since 2018, registering a mere 20.55. Concurrently, the Moving Average Convergence-Divergence (MACD) histogram recorded its nadir since early 2023.
From its zenith in September at $1,947.00, Gold has retreated by over 6%. Should this decline persist without a significant bullish counteraction, XAU/USD might very well sink below its annual support, currently pegged at $1,804.76.