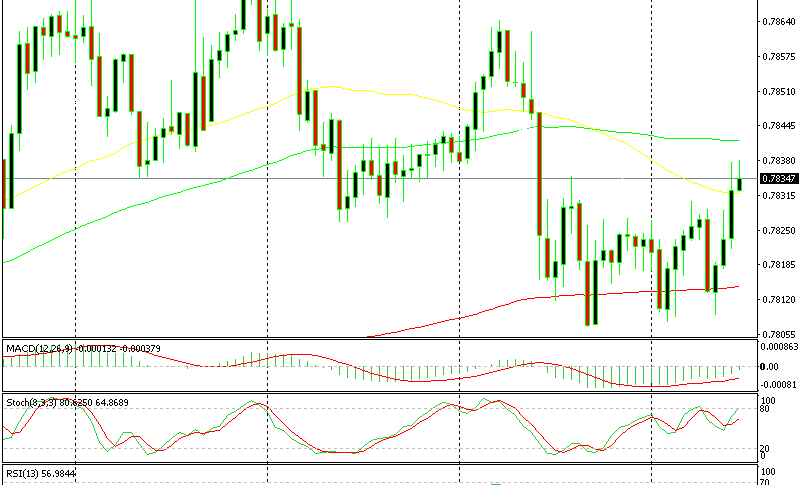 AUD/USD Signal Facing the 20 SMA after Surviving for the 4th Time
The signal for AUD/USD has had us all clenching our teeth, to say the least. When we first opened it, the USD was under immense pressure across the board, and we got close to the take profit (TP) target a couple of times. Last week on Friday, the price came to just one mere pip below TP.
The USD, however, got back on its feet this week, while the AUD/USD reversed lower. Commodity currencies have been under pressure throughout the week, with the Euro coming in as the weakest link.
Survived four cardiac arrests on the H1 chart
Yesterday, the commodity dollars took yet another hit at around midday. AUD/USD lost approximately 50 pips over a few hours, and the reason was nowhere to be seen. It did take the price very close to stop loss (SL), even trading just 2 pips above it!
The 100 SMA (red) on the H1 chart held its ground. The price jumped about 20 pips higher, although that didn't last long, and down we headed once again. The 100 SMA was breached, but can't be considered broken, as the price hasn't moved too far below it.
This price action repeated itself three to four times, as can be viewed on the H1 chart. We fluctuated quite a bit during the US and the Tokyo sessions.
The 20 SMA is providing some resistance above
This morning, the price action has turned around in our favor. The commodity dollars have gained some ground, and the AUD/USD is heading towards the entry price. We can see that this signal is safe, at least for now. The USD has been in high demand this week, although, I believe it is time for a pullback. If this occurs soon enough, our signal will head towards TP.
The 20 SMA (grey) is standing above our heads now. It has been holding the uptrend in place for about a month, meaning that it will be an obstacle on the top side. Here's hoping the resistance isn't too strong.