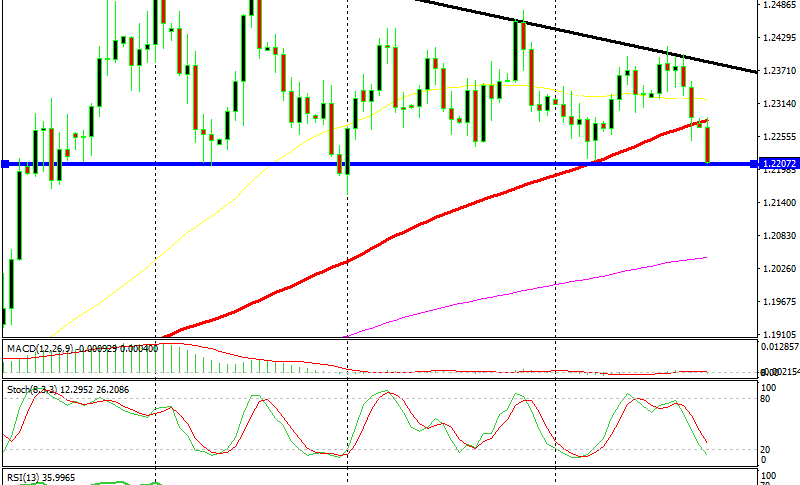 EUR/USD Back at Resistance in A Hurry! Time to Break the Wedge? 
EUR/USD has been trading on a range for almost three months now. The range has become narrower with time and it seems like it has turned into a real wedge now. The wedge is similar to the triangle chart pattern by the way. It is supposed to be broken sooner or later, one way or another.
That time might be now, now is always as good as any other time.  The fact that makes me think that the break might happen this time is the way EUR/USD has turned bearish in the last few days. This pair has turned down pretty quickly and has lost 200 pips since last Thursday.
We reached the bottom of the range pretty quickly
It broke the 100 SMA (red) without much trouble and now we are at the bottom of the range around 1.22. The price action today is pretty encouraging for sellers. If you switch to the hourly chart you can see that today the buyers couldn't put up any fight at all; as soon as they began to push higher, the sellers overwhelmed them. It's been the same price action in the last three days actually, so the bearish momentum is pretty obvious.
This move has been mostly an attribute of the US Dollar actually, since the Buck has been pushing higher like crazy during the last few days. But that doesn't really matter to us. What matters is whether the bottom of the range will be broken. If the sellers manage to push the price below it, then the next level is 1.2150s which was the low back at the first day of March.
All we can do now is wait. If you want to trade the break, you might place a sell pending order at .2190 and target 30-40 pips. Although, trading the break right away is a bit dangerous for my taste because it might be a fakeout, but that's your call.