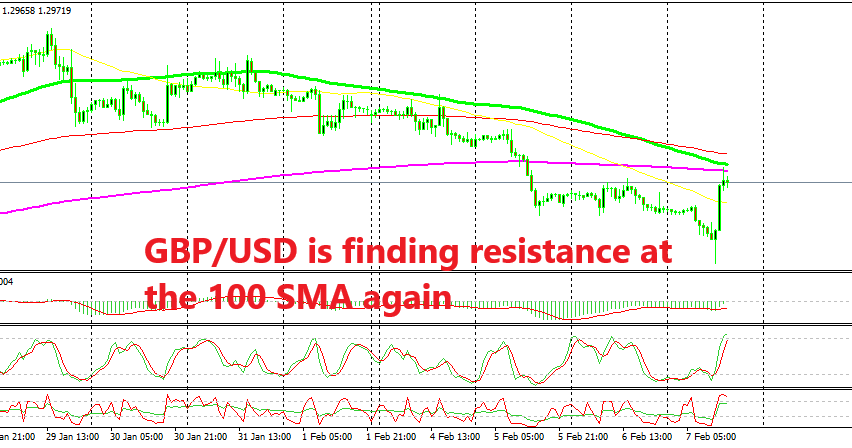 BOE And Governor Carney Sounded More Dovish Than Hawkish But Markets Hear What They Want to Hear
The Bank of England kept interest rates unchanged with all MPC members voting to keep them unchanged. That means no rate hikes for some time because it takes time for the MPC members to change their minds, enough to make the votes for another rate hike. In fact, the monetary policy summary and the press conference from Governor Carney sounded pretty dovish, a lot more than they sounded hawkish, yet, the GBP has  climbed around 140 pips form the lows today. Let me list the main comments below:
2019 GDP forecast revised lower at 1.2% against 1.7% previously. 2020 GDP forecast is revised at 1.5% against 1.7% previously
The BOE acknowledges the damage on GDP growth from Brexit. Productivity growth is also expected to be weaker than previously estimated.
Brexit uncertainties have led to volatile economic data from Britain and if uncertainties continue, they could lead to greater volatility.
UK economy as a whole is not prepared for a no-deal Brexit case.
The consumer demand and the housing market has been hit by Brexit uncertainty.

The BOE expects the CPI (core price index) inflation to decline below the 2% minimum target in coming months

The fundamentals for the UK economy are solid, the labour market is tight. If there is clarity on the Brexit deal soon, the UK economy should see some upside since it has the potential.
I don't know what the market sees as bullish here. The only bullish comment is the last one and that is only wishful thinking because Brexit is a total mess. It might end up as a no-deal Brexit which would be terrible for the UK economy, or it might be postponed and that would push uncertainty further down the road.
All the other comments are as dovish as it gets. I mean, lower GDP, lower inflation in near term (
who knows what will happen in the long run
), increasing uncertainties etc, not to mention the no-Brexit scenario. But, the market has its own mind as I often say and
GBP/USD
is 140 pips higher near the 100 SMA (green) which has been a solid resistance during this week and the 200 SMA (purple) which looks like a good opportunity to sell. But, I leave that decision to you since the volatility is pretty high and the risk is elevated.